Communities Minister Andrew Stunell wishes Christians a happy Easter: 2012
Communities Minister Andrew Stunell reflects on new beginnings and the spirit of helping others as he wishes Christians across the nation a …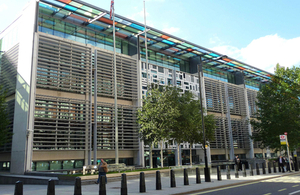 Communities Minister Andrew Stunell reflects on new beginnings and the spirit of helping others as he wishes Christians across the nation a very happy Easter.
Andrew Stunell said:
This is a season that both celebrates life and reminds us of the power of sacrifice for a greater good, to create a better world. This spirit is an enduring quality of the Christian faith demonstrated day in day out by many people, helping neighbours and volunteering their time not just for the benefit of those who share their faith but for their wider community.

As the Holy time of Easter falls and thoughts of renewal and hope are at the fore, Spring springs into action, ushering in new life. Regardless of our faiths we can all share in the prospect of new beginnings and be encouraged by the Christian tradition of sacrifice to build our communities and better our neighbourhoods.

I wish all Christians a happy and peaceful Easter.
Published 5 April 2012