Communities Minister Andrew Stunell wishes Christians a happy Easter: 2011
Communities Minister Andrew Stunell praises the contribution of Christians to local communities across the nation and wishes them, and those…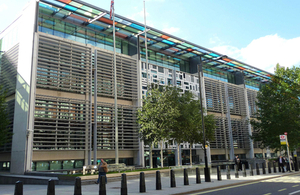 Communities Minister Andrew Stunell praises the contribution of Christians to local communities across the nation and wishes them, and those people celebrating the more secular traditions, a very happy Easter.
Andrew Stunell said:
This Easter, as Christians across the world celebrate the resurrection of Jesus Christ, it is an appropriate moment to reflect on the specific contribution that Christian churches, charities and individuals make to the wellbeing of our society. Christian values have shaped our traditions and our society for centuries, and they are as relevant as ever today - guiding the moral outlook of many, inspiring great numbers of people to public service, providing help to those in need.

The churches have an unparalleled national presence of people and volunteers, with buildings in the heart of practically every local community, often deeply committed to service delivery to the homeless and other vulnerable people. This compassion, neighbourliness and kindness will undoubtedly be very much in evidence over Easter weekend.

I wish all Christian communities celebrating their holy day, a very happy Easter.
Published 21 April 2011