Communities are ready for the Big Society
Only a minority of people feel that they can influence local decisions or have engaged in some form of civic participation in the last year,…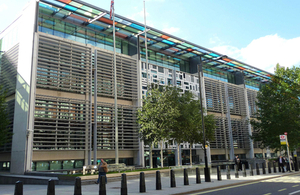 Only a minority of people feel that they can influence local decisions or have engaged in some form of civic participation in the last year, according to survey findings published today.
The Big Society launched by the Prime Minister on Monday aims to address this and give more power and responsibility to communities. The plans will support local areas so they can take an active part in tackling local problems and contributing to decisions that affect them.
The survey asked 16,000 people for their views on civic engagement, volunteering, community cohesion and discrimination. The results, covering the year 2009-10, show that a large majority of people thought their community was cohesive, agreeing that their local area was a place where people from different backgrounds got on well together.
While trust in Parliament was at its lowest level since the survey began, people's satisfaction with their local area has increased and there was an overall reduction in the number of people who felt that racial harassment is a problem.
Although levels of civic participation and volunteering are low, cohesive communities, in which people feel they belong, should provide a strong foundation on which to build the Big Society.
Communities Minister Andrew Stunell said:
It's good news that the great majority of people get on well with each other and are satisfied with their local area. But levels of volunteering and civic participation could be higher. We want to see communities all over the country in which high numbers of people are actively engaged in making their neighbourhood better and are giving something back.

At the same time as we are showing people that we trust them to know what will work best in their local area, we are also greatly increasing transparency and openness in the processes of Parliament and Government.

Everyone has a part to play in building the Big Society. The Government's job is to make sure that individuals and community groups have the freedom and tools to enable them to get involved in civic and social action or to build on the good work they are already engaged in.
The Prime Minister David Cameron and Communities Secretary Eric Pickles announced four places that will act as test beds for realising the Big Society ideals. Many people would like to do more in their communities but either don't know where to start or come up against obstacles. The four vanguard areas will be able to call on civil servants to help them remove hurdles and get action off the ground. A community organiser for each area will be trained up and it will be their job to help stimulate and organise local involvement in community action.
The National Citizen Service, launched today, will also encourage volunteering and will give every 16 year old the chance to develop the skills needed to be active citizens and to mix with people from different backgrounds. Minister for Civil Society, Nick Hurd, today announced a series of pilots to take place next year.
Notes to editors
1. The findings are from the Citizenship Survey, a face to face household survey carried out on behalf of Communities and Local Government. It covers a representative core sample of almost 10,000 adults in England and Wales each year, with a minority ethnic boost sample of 5,000 and a Muslim boost sample of 1,200 to ensure that the views of these groups are robustly represented. It asks about a range of issues including views about the local area, community cohesion, racial and religious prejudice and discrimination, values, interaction/mixing, political efficacy, civic engagement, volunteering and charitable giving. The survey was first carried out in 2001.
2. The survey results are issued quarterly and are cumulative throughout the year. These latest results are for the last quarter of 09-10 and therefore include the full year results. The full Statistical Release for the 2009-10 Citizenship Survey can be found here: www.communities.gov.uk/publications/corporate/statistics/citizenshipsurveyq4200910.
3. The Prime Minister's speech on the Big Society on Monday 19 July can be found here: www.number10.gov.uk/news/latest-news/2010/07/pm-kick-starts-big-society-in-liverpool-2-53582 (external link).
4. The press notice on the National Citizen Service can be found here: http://www.cabinetoffice.gov.uk/newsroom/news_releases/2010/100722-citizenservice.aspx (external link).
Twitter
Keep up to date with the Department by following us on Twitter (external link).
Media enquiries
Visit our newsroom contacts page for media enquiry contact details.
Published 22 July 2010