News story
Commonwealth Charter outlines institution's values and beliefs
For the first time in its sixty-four year history, the Commonwealth will have a formal Charter setting out its core values.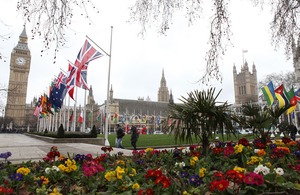 Through the Charter, Commonwealth leaders commit to upholding: democracy; human rights; peace and security; tolerance, respect and understanding; freedom of expression; separation of powers; rule of law; good governance; sustainable development; environmental protection; access to health, education, food and shelter; gender equality; and the importance of young people and civil society.
The Charter will be presented to Her Majesty the Queen, as Head of the Commonwealth, later today.
Commonwealth Minister, Hugo Swire, said:
With over a third of the world's population, the Commonwealth is an institution with a rich past and a promising future.
It is a diverse network which includes some of the world's fastest growing economies, developed and developing countries, small and island states. This gives it a legitimate voice on a range of global issues.
Today's Charter, published on Commonwealth Day, is a significant step forward in defining the Commonwealth's principles and values to the world. It helps to underline its relevance in the twenty-first century.
We know we have not yet reached our end goal and that not all Commonwealth countries as yet adhere to every one of these values. However, in agreeing them, we laid down a marker, and we look to Commonwealth governments to make progress in upholding the values they have agreed.
The significance of the Commonwealth has been steadily growing over the last two decades, with intra-Commonwealth trade in goods now worth about £250 billion each year to its members. It also plays a practical role in encouraging democracy and has observed over seventy elections since 1990, most recently in Kenya.
In publishing a Charter, member countries have signed up to a common set of beliefs, and made clear their intention to build up the institution and make it more visible and more relevant in the months and years to come.
Further Information
Read the Commonwealth Charter
The Foreign Secretary's written statement to Parliament on the Commonwealth Charter.
More information about the FCO's work strengthening the Commonwealth
Published 11 March 2013
Last updated 24 March 2013
+ show all updates
Added translation
First published.