Commission for quality and innovation scheme: data available
Data to support the Commissioning for Quality and Innovation scheme (CQUIN) national goal to 'improve responsiveness to personal needs of patients…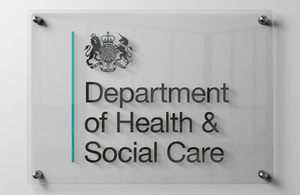 Data to support the Commissioning for Quality and Innovation scheme (CQUIN) national goal to 'improve responsiveness to personal needs of patients' is now available via Strategic Health Authority (SHA) cluster CQUIN leads.
The data is based on the National Adult Inpatient survey 2012/13 and is due to be published in April 2013 by the Care Quality Commission (CQC) as part of their National Patient Survey Programme. More information on how data will be distributed.
SHAs and commissioners can now assess whether performance last year met the thresholds they agreed locally for 2012/13. They are asked to contact the relevant lead below to access their trusts information:
Any queries should be sent to Louisa Ashby at statsonexperience@dh.gsi.gov.uk or on 0113 25 45586.
The goal to 'improve responsiveness to personal needs of patients' for 2012/13 was included in the operating framework published on the department's website in November 2011. The composition of the goal and further background is given in previous guidance published in December 2010.
Distribution of data
Dissemination
In mid February 2013, each trust will have received data for their own organisation directly from the national survey coordination centre for NHS surveys. The data sent covers the 5 Inpatient Survey 2012/13 questions used in the CQUIN scheme and the overall CQUIN score for the individual provider. Around the same time, Deparment of Health (DH) statisticians will have emailed a version of the patient experience CQUIN tool to SHA cluster CQUIN leads, who will share the tool with commissioners and providers. Commissioners may also obtain a copy of the individual trust data directly from their provider.
Restrictions
Under National Statistics rules, national data cannot be made available before the full publication is ready in April 2013. Therefore, a commissioner or provider will only be able to access data for providers in the same SHA cluster. Each spreadsheet is password-protected, and DH send passwords separately to SHA cluster leads, so that no one has access to 2012/13 data beyond their own SHA cluster.
Standardisation of data
Data in the tool will have been fully checked and standardised to take account of the age and sex distribution within each trust, and will be consistent with the forthcoming April 2013 publication by CQC. No further standardisation is necessary.
Publication
After CQC publish their Inpatient Survey in April 2013, DH will produce a national version of the patient experience CQUIN tool with all the 2012/13 data. This is expected to be published on the new cross government website.
Published 13 February 2013