Press release
Commercial use of public data study published
The CMA has published an independent evaluation on the impact of the OFT's 2006 market study into the commercial use of public information.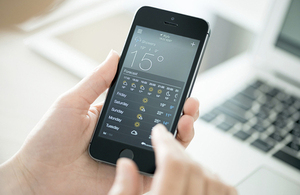 The evaluation was carried out by economic consultancy DotEcon (following a competitive tender process) and is one of the two evaluations of past work by UK competition authorities that the Competition and Markets Authority (CMA) has committed to undertake each year.
The Office of Fair Trading's (OFT) study identified shortcomings in how public sector information (PSI) was made available for reuse and the extent to which this allowed businesses to compete with public service information holders (PSIHs) in the supply of value-added products and services.
DotEcon's report notes that the market has grown substantially since 2006 and that growth is due to a number of factors, some of which relate to the recommendations made by the OFT and others to the government's Open Data agenda helping to bring about change.
However, implementation of the OFT's recommendations has been mixed. For example, accounting separation – enabling PSIHs to distinguish unrefined information for which they are the only supplier (which they should provide to other parties at no more than full cost) from value-added products for which there are competing suppliers – is acknowledged as good practice, but there have been limited examples of this being put into practice.
A possible cause is that sanctions available to regulators have not kept pace with the development of the sector, and the report also notes that the OFT's follow-up work could have gone further while highlighting concerns around the tension between PSIHs acting as self-financing trading funds while also being asked to make their data more widely available.
Given the different factors influencing change in this sector, DotEcon recognises that direct quantification of the benefits from the OFT report is difficult but has estimated them at between £10 million and £50 million.
John Kirkpatrick, Senior Director at the CMA, said:
Evaluations like this are an essential exercise for the CMA, allowing us to look back and learn – and then apply those lessons for the future.

This remains an important and evolving market and whilst the OFT study helped spark some change and set out widely accepted principles for its development, it is clear from this report that there remains more to be done.

We plan to use this report's findings to push for further change where necessary, so that in an increasingly digital era, more of the potential benefits to society are realised.
Notes to editors
Examples of PSI include weather observations collected by the Met Office, records held by The National Archives used by the public to trace their family history, and mapping data collated by Ordnance Survey.
The underlying raw information can be vital for businesses wanting to make value-added products and services such as in-car satellite navigation systems. PSIHs are often the only source for this data and a number of PSIHs also compete with businesses in turning the information into value-added products and services.
Applications (apps) rely to a varying degree on PSI. Weather and mapping apps are among the most popular app categories. For example, in the UK there were more than 2 million downloads and more than 30 million active users of navigation apps in December 2013.
The CMA is the UK's primary competition and consumer authority. It is an independent non-ministerial government department with responsibility for carrying out investigations into mergers, markets and the regulated industries and enforcing competition and consumer law. From 1 April 2014 it took over the functions of the Competition Commission and the competition and certain consumer functions of the OFT, under the Enterprise and Regulatory Reform Act 2013.
Enquiries should be directed to Simon Belgard (simon.belgard@cma.gsi.gov.uk, 020 3738 6472) or Rory Taylor (rory.taylor@cma.gsi.gov.uk, 020 3738 6798).
Published 26 March 2015