Commercial partner announced to help improve MOD business services
The award of a contract to a commercial partner to help improve the MOD's business services has been announced today.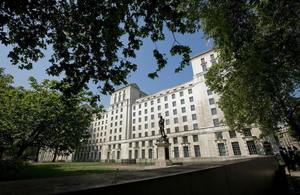 Defence Secretary Philip Hammond made the announcement to Parliament today that the Defence Business Services management contract will be awarded to Serco, subject to a 10-day standstill period.
This is part of a long-term programme to radically transform the way corporate services are provided to the department.
Defence Business Services (DBS) stood up on 4 July 2011 and provides a range of corporate services, including human resources, finance, information and vetting, from a single structure to all areas of the department.
Serco will work with DBS to transform the organisation into an efficient shared services centre which builds on private sector best practice.
Over its 4-year duration, the value of the contract is around £36m, but there is an option for the department to extend this for a further year. The contract is based on a zero management fee, with all Serco's earnings being performance-related.
Serco will be strongly incentivised to drive down costs and deliver efficiencies, and savings in the order of around £71m are expected to be achievable over the life of the contract.
Mr Hammond said:
Today marks a defining moment in our efforts to radically change the way we do business in the Ministry of Defence by awarding a contract to Serco to lead, manage and transform the Defence Business Services organisation.
This is an exciting and challenging time for the department; the new Serco management team have first-hand experience of making similar changes in the wider public and private sector, improving performance through innovation.
We are committed to working in partnership with Serco to make this transformation a success and to deliver efficiencies and savings which will allow more resources to be made available to the front line.
The 10-day standstill period, also known as Alcatel, is mandatory between contract award and contract conclusion to enable transparency in the award process and allow any potential challenges to be addressed before contract signature.
A competition was carried out using the competitive dialogue process, involving KPMG with CSC, IBM with Deloitte, and Serco with Accenture, to seek a potential commercial management partner for DBS.
As part of this process a number of issues have been considered including value for money, deliverability of efficiencies, and how best to enable transformational change. Following an intense period of dialogue, the competition closed in December 2011, with final bids due in just before Christmas.
A number of options have been explored and it has been decided that the best long-term solution is to bring in a commercial management team from Serco to lead and transform DBS.
One of the key drivers is our need to deliver more efficient and affordable corporate services, and Serco will work with DBS staff to transform the organisation into a lean exemplar shared services centre which builds on private sector best practice.
DBS itself will continue to be a part of the MOD, and personnel working in DBS will be employed in the same way as all other MOD staff, with the same terms and conditions of service.
Published 1 March 2012