News story
Collision between a passenger vessel and a workboat
Investigation into the collision between Typhoon Clipper and Alison off Tower Pier, River Thames, London.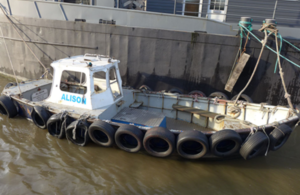 MAIB has commenced a safety investigation into the collision between the passenger vessel Typhoon Clipper and the workboat Alison, close to Tower Pier on the River Thames at 1108 on 5 December 2016.
Alison capsized and sank as a result of the collision. The two crew on board the Alison were rescued from the water by the crew of Typhoon Clipper and taken to hospital, from where they were discharged later the same day. Alison was recovered the following day by the Port of London Authority.
The investigation is ongoing and a report will produced and published in the reports section of this website. Details on the investigation process can be found here.
Our investigation is independent of any investigation carried out by the Maritime and Coastguard Agency and the police.
You can subscribe to automated emails notifying you when we publish our reports.
Press enquiries
Press enquiries during office hours 01932 440015
Press enquiries out of hours 020 7944 4292
Published 14 December 2016