College of Policing open for business
Policing and Criminal Justice Minister Damian Green today welcomed the launch of the College of Policing.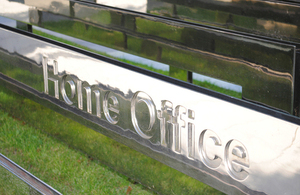 The College will help raise the standards of policing across England and Wales creating a force fit for the 21st Century.
In an article in The Times today Damian Green said that the police were at a significant fork in the road and that they had to step-up to reform or risk losing their reputation.  The College of Policing will be a strong, national organisation for both police officers and police staff that will help the police raise their game. 
It will develop the professionalism of officers to create a highly regarded and highly recognised profession.
College of policing
It will be led by Chief Constable Alex Marshall who will focus on equipping officers with the skills they need to fight crime and protect the public.  It will be chaired by Professor Shirley Pearce who brings a wealth of academic experience.
Policing and Criminal Justice Minister Damian Green said: 'The College of Policing will help forge a force fit for the 21st century, setting and maintaining new standards that will build on the professionalism of police officers, ensuring they remain among the best in the world.
'Under the strong leadership of Alex Marshall, it will promote the highest standards of integrity and ethics so important to public trust.
'Crucially it will be independent of government, with officers from all ranks having a direct say in their training and development.'
The launch was held at 1 Great George Street where police leaders were given the opportunity to quiz Mr Marshall about his priorities for the professional body.
Highest professional standards
Chief Executive Alex Marshall, said: 'On behalf of the public and the profession we will set and maintain the highest professional standards. The police hold intrusive powers to allow them to protect the public. The public expect such powers to be used wisely and proportionately by people who are skilled professionals with high levels of integrity.
'Our mission is to ensure that everything we do equips everyone in policing with the right tools, skills and knowledge to reduce crime and protect the public.'
As well as providing professional practice standards, policy and guidance, it will set the professional development framework for training, assessment and promotion.
Published 4 February 2013