World news story
Collaboration on health boosted at UK-China High Level People to People Dialogue
There are two main Memoranda that will be signed today on health policy which takes forward our collaboration.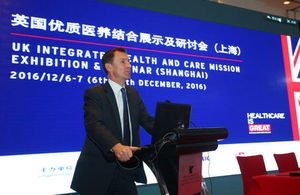 Jeremy Hunt MP, the Secretary of State for Health, is in Shanghai attending the UK-China High Level People to People Dialogue (P2P). This follows a visit to Beijing, where he co-hosted the UK-China Health Dialogue with Vice Minister Cui Li on 5 December.
The UK and China have a broad and strong relationship on health. Collaboration covers a wide range of health issues, from national health policy reform, including primary care, elderly care and health financing, to global health issues, such as antimicrobial resistance.
There are two main Memoranda that will be signed today on health policy which takes forward our collaboration:
the renewal of the MoU between the Department of Health of the UK and the National Health and Family Planning Commission of the People's Republic of China focussed on health cooperation in the context of ageing populations, emerging infectious disease and the growing burden of non-communicable diseases.

MoU on UK-China Antimicrobial Resistance Research and Innovation Collaboration between the UK's Department of Health and China's Ministry of Science and Technology. The Chinese Government will provide matching funding to the UK Government's commitment to respectively support researchers of the two countries to carry out joint research and innovation projects.
In Shanghai today, he witnessed the signing of 11 agreements on health care between UK and Chinese companies, with a total value exceeding £250m.
He also opened the Integrated Care Demonstrator where thirty UK healthcare companies were present to discuss British innovation and technologies with Chinese counterparts, and explore investment and partnership opportunities. The delegation is the largest ever UK healthcare mission to China led by the Department for International Trade and will also visit Hangzhou, Shenzhen, Guangzhou and Hong Kong.
The UK is internationally renowned for delivering excellent healthcare, with the world's largest integrated healthcare system, the NHS, providing high-quality services for nearly 70 years. British health and care organisations are keen to partner with China to deliver health reforms and high quality care to the people of China.
Memoranda of Understanding (MoUs) signed today include a joint venture contract between IHG and Dalian Wanda Group to operate the Qingdao Wanda IHG International Hospital. BUPA also announced it will open two clinics in Guangdong Province in 2017 as part of the company's expansion into the Chinese market.
Published 6 December 2016