Press release
Cold Weather Plan launches to prepare for winter
The plan aims to prevent avoidable harm to health, to help prevent excess winter deaths in England.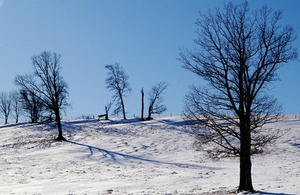 With winter fast approaching, the Cold Weather Plan for England has been published by Public Health England (PHE) today (Friday 25 October), in collaboration with the Department of Health, NHS England and the Local Government Association (LGA).
There are on average 24,000 excess winter deaths per year in England, many of which are preventable. The Cold Weather Plan aims to prevent avoidable harm to health, by alerting people to the negative health effects of cold weather, and enabling them to prepare and respond appropriately.
The emphasis of this year's plan is on long term planning and winter action and preparedness (levels 0 and 1). There are several interventions local authorities, the NHS, individuals and communities can do to help prevent cold-related illnesses, before cold weather sets in. These include having your flu vaccination if you are in a risk group, ensuring homes are properly insulated, and making sure heating systems are routinely checked.
As in previous years, the Met Office will trigger cold weather alerts from 1 November 2013 to 31 March 2014, on the basis of either low temperatures of 2°C or less, or severe winter weather (heavy snow or widespread ice).
The 5 levels in the cold weather alert system are:
Level 0 (long term planning)
Level 1 (winter preparedness and action)
Level 2 (severe winter weather is forecast - average temperature of 2°C or lower is predicted within 48 hours, with 60% confidence)
Level 3 (response to severe winter weather - average temperature of 2°C or lower is occurring)
Level 4 (major incident, declared by central government)
Dr Paul Cosford, Director for Health Protection & Medical Director at PHE, said:
In colder weather, keeping yourself warm is essential to staying healthy, especially for the very young, older people or those with a chronic condition such as heart disease and asthma. There are a range of health problems associated with cold housing and winter weather, but in particular, a cold indoor or outdoor environment can make heart and respiratory problems worse, and can be fatal.

This is why the Cold Weather Plan sets out a series of actions that health and social care organisations, voluntary groups, and individuals can take and plan for cold temperatures to help reduce cold-related illnesses and deaths.
Jane Ellison, Public Health Minister, said:
The elderly and those with long term illnesses are particularly at risk during the winter months so it's crucial that people stay warm and that we all find time to check in on those who may be vulnerable. Young children, older people and at-risk groups are also vulnerable to flu which is why all 2 and 3 year olds and those over 65 are being offered the flu vaccine.

It's also vital that health services are ready to cope with the inevitable increase in pressure as temperatures drop, which is why I strongly encourage all frontline NHS staff to get their flu vaccine. We are also investing £500 million over the next 2 years to help ensure A&E departments are well prepared for winter.
Cllr Katie Hall, Chair of the LGA's Health and Wellbeing Board, said:
On average, 24,000 deaths occur in England per year as a result of the cold temperatures. Most are aged over 75, and their deaths could have been avoided with better preparation for cold weather.

As the cold weather sets in we need everyone in our communities to be on the look-out for signs that something might be wrong. Whether it be milk bottles left outside, newspapers stuck in the letterbox or curtains drawn all day, any sort of unusual activity could be a sign that something is wrong and that someone is in need of help.

Council teams will be on standby to help with everything from carrying out emergency household repairs like defrosting pipes and fixing frozen boilers to delivering hot meals and portable heaters, and will be checking in on elderly and vulnerable residents to make sure they are okay.
Top tips for keeping warm and well this winter:
Keep warm by setting your heating to the right temperature (18 to 21°C).
Have your flu jab to protect yourself and others from influenza, if in an eligible group
Look out for friends, relatives and neighbours who may be vulnerable to the cold.
Stay tuned to the weather forecast and plan ahead with supplies.
Have regular hot meals and drinks throughout the day and keep active to help your body stay warm.
Get financial support to make your home more energy efficient, improve your heating or help with bills.
Have your heating and cooking appliances checked regularly.
Wear a few layers of thin clothing rather than one thick layer, and when you need to go outside wear shoes with slip resistant, good grip soles.
A PHE Winter Health Watch website will also launch early November and brings together PHE's weekly monitoring of winter-related illnesses and deaths.
Follow #winterready (for message alert levels 0 and 1) and #weatheraware (alert levels 2 to 4) on Twitter for winter health advice.
Ends
Notes to editors:
The Cold Weather Plan for England is updated each year to provide health and social care services with emergency planning and preparedness guidance in the event of severe weather and periods of cold weather. Prior to 2013, the Cold Weather Plan for England was published by the Department of Health. The 2013 plan will be made available from Friday 25 October.

For more information about the Cold-Weather Alert system from the Met Office, visit their website.

Visit the Met Office's 'Get Ready for Winter' website for advice from government departments and charities to help you through winter.

See evaluations of previous 'Warm Homes Healthy People Funds', run by the Department of Health.

Public Health England's mission is to protect and improve the nation's health and to address inequalities through working with national and local government, the NHS, industry and the voluntary and community sector. PHE is an operationally autonomous executive agency of the Department of Health.
www.gov.uk/phe Follow us on Twitter @PHE_uk
Photo courtesy Pocius via creative commons licence
Infections press office
PHE press office, infections
61 Colindale Avenue
London
NW9 5EQ
Published 25 October 2013