Press release
Coastguard urge "check tide times before setting out"
Swansea Coastguard dealt with four separate incidents involving people being cut off by the rising tide at the weekend (25 May)
This news article was withdrawn on
Some of the advice is out of date and the contact details provided are to an office that's now closed.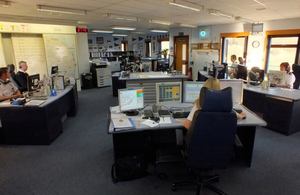 As the weather warms up Swansea Coastguard is urging the public to check tide times and weather conditions before setting out on coastal walks.
Whilst on exercise earlier on Sunday (25 May), Burry Port RNLI lifeboat located two boys in difficulties, stranded on the rocks at Bluepool, Gower. The lifeboat landed them ashore on the beach at Broughton Bay.
Swansea Coastguard then had a call concerning four members of the public cut off by the tide at Sully Island. The Penarth Coastguard Rescue Team and Penarth lifeboat transfered the casualties ashore.
Watchet Coastguard Rescue Team and Minehead RNLI lifeboat were the next teams to be sent by Swansea Coastguard to assist two adults and two dogs that had become cut off by the tide near Grey Rock, Blue Anchor. They were all safely returned to the shore.
Finally, on Sunday afternoon, Swansea Coastguard was contacted by the Assistant Pier Master at Penarth Pier concerning a group of people that were cut off by the tide just north of Penarth Pier. Luckily the group all managed to climb the rock armour, whilst keeping in contact on a mobile phone, and returned to safety with no assistance required.
Marc Lancey, Swansea Coastguard Watch Manager said,
Always check the weather and tidal conditions before you set out for beach walks so that you can prepare accordingly. At sea changes in tidal streams could make conditions worse, particularly if the wind and tide are against each other. Tidal heights may hide underwater hazards. Consider whether you could become cut off by the incoming tide, above all do not take risks. If you do get into difficulty, call 999 and ask for the Coastguard.
Maritime and Coastguard Agency press office
Press enquiries 020381 72222 (Monday to Friday, 9am-5pm)
Outside these hours, for emergency press enquiries only please dial the above number. You will hear a message giving an out of hours pager number.
Published 27 May 2014