Press release
Coastal communities in Margate, Whitehaven and Littlehampton to receive £3 million to boost local economies
Three coastal towns are the latest communities to be awarded funding to create jobs, boost the local economy and help with flood repairs.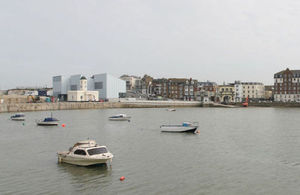 Margate, Whitehaven and Littlehampton are the latest areas to receive funding from the government's multi-million pound Coastal Communities Fund, ministers announced today (28 October 2014).
Almost £3 million of funding will be used to restore a derelict Grade II art deco cinema in Margate, create a new contemporary arts centre in Whitehaven, and rejuvenate Littlehampton's riverbank to attract business investment and opportunities.
The projects will create 250 jobs, and attract £1 million from other private and public bodies.
The government is committed to helping seaside towns create vibrant economies as part of the long-term economic plan to boost jobs, infrastructure and businesses around the country.
The Coastal Communities Fund has to date already spent £62 million on supporting local enterprises and infrastructure, and is set to create 8,600 jobs around the UK, and safeguard 2,100. The fund will provide 4,000 training places and apprenticeships for young people and also attract over £100 million of public and private finance.
Coastal Communities Minister Penny Mordaunt said:
Revitalising our seaside towns to be vibrant economies year-round is part of the government's long-term economic plan.

These projects will bring new business opportunities that create local jobs, boost the local economy and encourage flood protection.

Our multi-million pound Coastal Communities Fund is helping over 100 innovative projects across the country fulfill their potential, stimulate the local economy and supporting over 10,000 jobs and almost 4,000 training places for young people.
Chief Secretary to the Treasury, Danny Alexander said:
Coastal communities are a glorious part of Britain's heritage and economy - contributing £4 billion to the country each year - so I designed the Coastal Communities Fund to ensure that we can maintain their vibrancy for residents and tourists alike in the future. This government has secured a stronger economy, and now we're investing in coastal communities to ensure that this is felt across the UK as part of our drive to create a fairer society.
The Coastal Communities Fund was launched in 2012 to invest in seaside towns and villages, helping them achieve their economic potential, reduce unemployment and create new opportunities for young people in their local area.
It is helping seaside towns make the most of their potential by diversifying their economies and industries so they become year-round success stories.
The 3 projects are:
Littlehampton, Sussex - Arun District Council (£573,000)
The project will revitalise the riverbank area of Littlehampton and complement a new £14 million flood defence scheme led by the Environment Agency. It will improve links between the town centre, sea front and riverside and revamp the riverside walkway through new railings, light columns, seating and coastal style planting. The project will create 47 indirect jobs for the local economy and support long-term sustainable development.
Whitehaven, Cumbria - Rosehill Arts Trust (£450,000)
This 10 month project in Whitehaven will upgrade a new section of the Rosehill Theatre and create a new contemporary arts centre and restaurant. It will include the creation of a contemporary front of house, exhibition space, café and an enlarged foyer; and the renovation of the theatre's auditorium, foyer and dressing-rooms. It will also create a fully accessible front of house and staff facilities and new theatre entrance. The project will create 15.5 direct jobs, safeguarding 5 jobs and create 16 indirect jobs.
Margate, Kent - Thanet District Council (£1.8 million)
This project in Margate will bring back into economic use the iconic but derelict art deco cinema site that provides a critical part of the Dreamland site in Margate, Kent. It will also create a commercially viable, high quality restaurant in a Grade II listed building. The refurbishment includes bringing the original building façade back to its 1930's glory. The project will attract new visitors to the area, supporting local businesses and create 171 jobs.
Further information
More than 11 million people live in coastal communities, from major cities to seaside villages with key industries for these communities include fishing, shipping and renewable energy alongside tourism.
There are around 250,000 people working in seaside tourism in more than 150 resorts which contribute £4 billion to the UK economy.
In 2013, 18.6 million overnight trips were taken by British residents to the seaside in England spending £3.9 billion. There were a further 128 million day visits spending £4.5 billion.
The Coastal Communities Fund is financed by the government through the funding equivalent of 50% of the revenues from the Crown Estate's marine activities in that area.
Through the £12 billion nationwide Growth Deals, over £600 million has been provided by government to the local enterprise partnerships to support wider economic growth:
Coast to Capital secured £202.4 million from the government's Local Growth Fund to support economic growth (includes Littlehampton, West Sussex).

South East secured £442.1 million from the government's Local Growth Fund to support economic growth in the area (includes Margate, East Kent).

Cumbria secured £26.8 million from the government's Local Growth Fund to support economic growth in the area (includes Whitehaven, Cumbria).
(Photo above by Steve Cadman on Flickr. Used under Creative Commons).
Office address and general enquiries
2 Marsham Street
London
SW1P 4DF
Contact form http://forms.communiti...
General enquiries: please use this number if you are a member of the public 030 3444 0000
Published 28 October 2014