Coalition government to reward local authorities for improving children's lives
Local authorities will be paid according to the prevalence of breastfeeding and the take up of free nursery care, under a new scheme being trialled by the Coalition Government.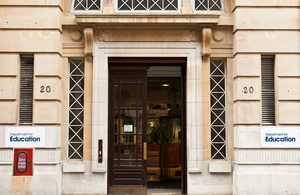 Children and Families Minister Sarah Teather today announced that trial local authorities will test a range of measures which aim to reinforce the role of Sure Start Children's Centres in improving outcomes for all children, while focusing on reaching those who can most benefit from their services.
The announcement comes on the day the Department began a consultation on Sure Start Children's Centres Statutory Guidance.
The draft revised guidance sets out that local authorities must have sufficient children's centres to meet the needs of young children and parents living in the area, particularly those in greatest need of support.
The purpose of payment by results is to reward progress against the main aim of Sure Start: to reduce inequalities in child development, school readiness, health and life chances, and to improve parenting aspiration and skills.
The measures announced today for the payment by results trials are:
Increasing the school readiness of young children by:
Narrowing the gap in attainment through the Early Years Foundation Stage Profile.
Increasing take up of the two year old free entitlement.
Increasing take up of early education amongst disadvantaged three year olds.
Improving health and child development by:
Increasing the prevalence of Breastfeeding at 6-8 weeks.
Improving parenting skills and support provided to families in need of children's centre services by:
Increasing the proportion of families in greatest need completing evidence based parenting programmes.
Increasing the proportion of families with children under 5 years who are identified as being "in greatest need" and have "sustained contact" with children's centres in the local authority area.
Local authorities running the trials are also developing local measures to test payment by results arrangements with their children's centres.
The trials will be evaluated to inform a decision about potential national rollout and the most suitable measures for a national payment by results scheme.
Children's Minister Sarah Teather said:
We know high quality early years support can have a lasting impact on children's lives and we are committed to maintaining a national network of Sure Start centres that help families in greatest need.
We understand that local authorities are facing difficult decisions. Our revised guidance makes clear that they should concentrate on improving outcomes for some of the most disadvantaged young people and families. It is about the quality of services to support children and families, particularly the most disadvantaged.
I want our payment by results approach to incentivise local authorities to reduce inequality. It will reward local areas for targeting those who will benefit most from the excellent support children's centres can offer.
Notes to editors
A consultation on Sure Start Children's Centres Statutory Guidance can be found on the consultations page of the Department for Education's website.

A small group of local authorities, children's centre leaders and representatives of the voluntary and community sector, were consulted during the production of the guidance.

Payment by results is part of the Coalition Government's approach to developing open public services which devolve responsibility to the lowest level to meet local needs, are transparent and accountable and achieve value for money.

Payment by results is currently being trialled in 26 areas. We plan to use the evidence from the trials to inform decisions on potential national rollout. The trial offers an opportunity to find out what works.

Later this year we will announce how the trial reward system will work so trial LAs understand the potential level of reward they could achieve.

The revised guidance implements a number of the Coalition Government's commitments to reform children's centres and sets out the outcomes they should strive for.

The strengthening of the guidance follows other measures to reduce bureaucracy relating to Sure Start. The Early Intervention Grant gives local authorities the freedom and flexibility to make the best decisions for the families in their communities.
DfE enquiries
Central newsdesk - for journalists 020 7783 8300
General enquiries - for members of the public 0370 000 2288
Published 5 March 2012