Press release
Coal Authority to take on Kellingley subsidence claims
The Coal Authority is preparing to take on Kellingley Colliery's coal mining subsidence claims.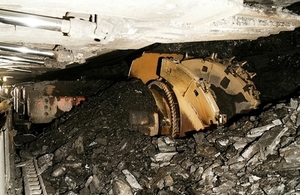 The Coal Authority has today confirmed that it is preparing to take on coal mining subsidence claims related to mining at Kellingley Colliery.
The Authority already manages subsidence claims for the former Hatfield Colliery, which closed earlier in the year, and has managed claims for Daw Mill Colliery following its closure in 2013. It is now getting ready to manage potential subsidence claims from property owners in Yorkshire.
Philip Lawrence, Chief Executive, Coal Authority, said:
"The closure of Kellingley Colliery marks the end of an incredibly significant period in our country's social and economic history. Many of our staff started their working lives in Britain's coal mines – as miners, engineers, surveyors and other specialists – and they're now managing the legacy that coal mining has left behind.
"Whilst we have no liability for the Kellingley Colliery site, our team is preparing to take on the management of the subsidence claims from Kellingley and also Thoresby Colliery which closed earlier in the year. This work will add to our existing role of managing £1 billion of mining legacy responsibilities across Britain, including over 172,000 mine entries and 26,000km2 of underground workings, to protect the public and the environment."
The Coal Authority will be releasing further information in the New Year about how people can claim for coal mining subsidence connected to Kellingley Colliery. In the meantime, property owners are asked to continue to contact UK Coal directly.
Additional information
Managing Britain's coal mining legacy
Published 21 December 2015