News story
CMA welcomes CAT judgment on Ryanair and moves to approve shareholding sale
The CMA has welcomed the Competition Appeal Tribunal's (CAT) decision to dismiss Ryanair's latest appeal regarding its shareholding in Aer Lingus.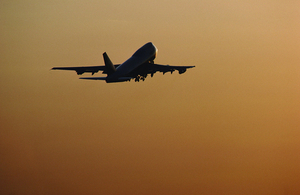 Following yesterday's European Commission decision to approve IAG's bid for Aer Lingus subject to conditions, the Competition and Markets Authority (CMA) has also moved to grant Ryanair the necessary approvals to sell its 29.8% stake to IAG.
Ryanair had appealed against the CMA's decision last month that there was no material change of circumstances for it not to require Ryanair to reduce its shareholding in Aer Lingus to 5%. Since that decision, Ryanair has announced its intention to sell its shareholding to IAG.
In light of this, the CMA has decided to grant Ryanair approval to sell its shareholding to IAG as a suitable purchaser and to use its vote as an Aer Lingus shareholder to support Aer Lingus's Board's recommendations at tomorrow's extraordinary general meeting (EGM). The CMA has also decided to suspend the requirement to appoint a divestment trustee to carry out the sale, which is one of the terms of the CMA's final order published following the June decision.
Simon Polito, Chairman of the Ryanair/Aer Lingus inquiry group, said:
We welcome both the CAT's judgment and Ryanair's decision to sell its stake. This follows several unsuccessful legal challenges against our decision, the latest of which was dismissed today, that it was bad for competition – and ultimately for passengers – for Ryanair to retain such an influence over one of its major competitors.

Divesting its shareholding removes that concern and we note that the European Commission has accepted commitments from IAG to address its potential concerns over the deal. We have therefore agreed to give the necessary permissions to allow Ryanair to sell its shareholding by accepting the IAG offer.
In February 2015, Ryanair had requested that the CMA re-examine its decision to require it to divest its 29.8% stake in Aer Lingus down to 5% on the basis that there had been a material change of circumstances since the publication of the Competition Commission's final report. This request followed the judgment of the Court of Appeal dismissing Ryanair's legal challenge to the final report. The Supreme Court yesterday refused Ryanair's application for permission to appeal the Court of Appeal's decision.
All information on the Ryanair/Aer Lingus inquiry can be found on the case page.
Published 15 July 2015