News story
CMA welcomes Cambridge cinema sale
The CMA has welcomed the sale of the former Cineworld cinema in Cambridge to The Light, an independent cinema operator.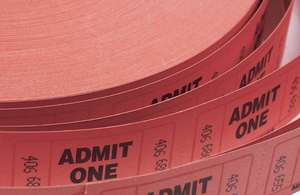 The conclusion of the then Competition Commission's (CC) inquiry in 2013 into Cineworld's acquisition of Picturehouse was that there could be a substantial lessening of competition in the 3 areas – Aberdeen, Bury St Edmunds and Cambridge. Cineworld and Picturehouse faced limited competition in these areas, so the acquisition could lead to higher prices for local cinema goers.
Cineworld was required to sell one of the cinemas it owns in each of these areas to an operator approved by the CC (now the Competition and Markets Authority (CMA)). The new operator would be expected to continue running it as a cinema and would also need to demonstrate that they had the appropriate expertise and experience.
The CMA approved The Light as a suitable purchaser of the cinema which met its criteria.
The CMA has already overseen sales of cinemas in Aberdeen and Bury St Edmunds during 2014.
Published 16 February 2015