News story
CMA welcomes Breedon sale
The CMA has welcomed the sale of the former Breedon asphalt plant at Tom's Forest in the Aberdeen area to Lafarge Tarmac.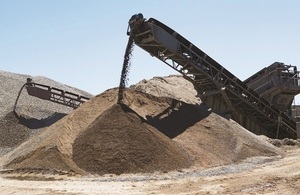 Following its inquiry into Breedon's acquisition of a package of assets from Aggregate Industries in 2014, the Competition and Markets Authority (CMA) required Breedon to sell an asphalt plant in the Aberdeen area and a ready-mix concrete (RMX) plant in the Peterhead area to an operator approved by the CMA.
Breedon would also have faced a price control for asphalt produced in the Inverness area if it continued to occupy and operate the asphalt plants at both Daviot and Mid Lairgs. However it ceased to occupy or operate the asphalt plant at Mid Lairgs in 2014, and so the potential price control remedy is not necessary.
Breedon and Aggregate Industries were previously competitors for many of these products across north-east Scotland and we found that asphalt customers in Aberdeen and Inverness, as well as RMX customers in Peterhead, could face higher prices due to the loss of competition and lack of alternative suppliers.
Breedon sold the Peterhead RMX plant to Leiths earlier this year. The CMA assessed and approved both Leiths and Lafarge Tarmac as appropriate purchasers of these sites.
All information relating to the investigation is available on the case page.
Published 26 February 2015