CMA statement following completion of criminal cartel prosecution
Two directors, Clive Dean and Nicholas Stringer, were today acquitted of charges under section 188 of the Enterprise Act 2002 following a trial at Southwark Crown Court.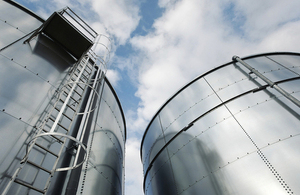 The acquittals came after a further defendant, Nigel Snee, had already pleaded guilty to the same offence last year. Mr Snee will appear for sentencing in front of His Honour Judge Andrew Goymer at a later date.
Mr Snee pleaded guilty to dishonestly agreeing with others to fix prices, divide up customers and rig bids between 2005 and 2012 in respect of the supply in the UK of galvanised steel tanks for water storage.
Following a thorough investigation the Competition and Markets Authority (CMA) applied the Code for Crown Prosecutors and discharged its duty as a prosecutor by bringing the case in front of a jury.
The CMA accepts that in this case the jury were not persuaded that Mr Stringer and Mr Dean acted dishonestly, and that they should, therefore, be acquitted.
However, this case was brought under the law as it applied to conduct before April 2014, under which the cartel offence was only committed where the individuals concerned were dishonest. Following a change in the law, for conduct after 1 April 2014, it is no longer necessary for the CMA to prove individuals acted dishonestly to commit the cartel offence.
The CMA would, therefore, remind anyone involved in cartel conduct or who may be tempted to become involved in such behaviour that we remain committed to investigating and prosecuting individuals who take part in cartels, which have a hugely detrimental effect on competition and to customers, whether businesses or consumers, who face paying higher prices and being offered less choice.
The CMA is also conducting a related civil investigation into whether businesses have infringed the Competition Act 1998. No assumption should be made at this stage as to whether the Competition Act has been infringed.
Notes for editors
Under the Code for Crown Prosecutors, prosecutors are required to apply a two-stage test before initiating proceedings: firstly, an assessment of the evidence and whether it provides a realistic prospect of conviction, and secondly, whether a prosecution is in the public interest.
The CMA is the UK's primary competition and consumer authority. It is an independent non-ministerial government department with responsibility for carrying out investigations into mergers, markets and the regulated industries and enforcing competition and consumer law. From 1 April 2014 it took over the functions of the Competition Commission and the competition and certain consumer functions of the Office of Fair Trading, as amended by the Enterprise and Regulatory Reform Act 2013. For more information on the CMA see our homepage or follow us on Twitter @CMAgovuk, Flickr and LinkedIn.
Enquiries should be directed to Kasia Reardon (kasia.reardon@cma.gsi.gov.uk, 020 3738 6901) or Simon Belgard (simon.belgard@cma.gsi.gov.uk, 020 3738 6472).
Published 24 June 2015