Press release
CMA set to clear adherence packaging merger
The Competition and Markets Authority (CMA) has provisionally cleared Omnicell/MTS's proposed acquisition of SurgiChem.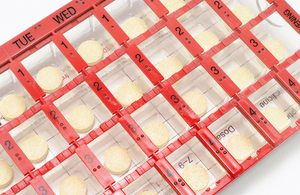 Omnicell, Inc./MTS Medication Technologies, Inc. and SurgiChem Limited both supply adherence packaging and other related products. Adherence packaging is used to repackage a patient's pharmaceutical medicine requirements, to make it easier for patients to take the correct medicine and dose at the correct time. The packaging is sold to pharmacies who then supply it free to patients in the community and care homes.
In its provisional findings report, the CMA has found that although the 2 parties compete for pharmacy customers who do not go out to tender for their adherence packaging requirements (non-tendering customers), in both the care home and domiciliary segments of the market, there will still be other suppliers to provide competition and choice. It also finds that entry and expansion by other suppliers is relatively straightforward and could act as a further constraint on the merged parties. There is no loss of competition for those customers who do go out to tender for their adherence packaging requirements (3 large pharmacy chains buy adherence packaging through tenders) because SurgiChem does not take part in these tenders.
Roger Witcomb, Chairman of the Omnicell/SurgiChem inquiry group and CMA Panel Chair, said:
Looking at the evidence we've gathered so far, we're confident that customer interests won't be harmed as a result of this merger. The merged company will still face competition from other rivals in those areas where Omnicell and SurgiChem currently compete and the potential for other players to enter and expand will act as a further brake on any attempt to raise prices.
The Office of Fair Trading (OFT) referred the case to the Competition Commission in March 2014 following a phase 1 review, since which time the CMA has taken over the case (see notes for editors). The CMA is expected to publish its final report by 28 August 2014.
Any interested party is invited to respond to the provisional findings report, in writing, by no later than 5pm on 1 August 2014.
To submit evidence, please email omnicell.surgichem@cma.gsi.gov.uk or write to:
Inquiry Manager
Omnicell/SurgiChem merger inquiry
Competition and Markets Authority
Victoria House
Southampton Row
London
WC1B 4AD

Notes for editors
Published 11 July 2014