CMA publishes decision on mobility scooters
The CMA has today published the non-confidential version of its infringement decision issued following an investigation into the sale of mobility scooters.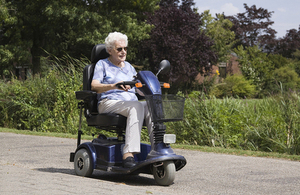 The investigation, started by the Office of Fair Trading (OFT) in April 2012, found that Pride Mobility Products Limited (Pride) had entered into arrangements with 8 of its UK-wide online retailers which prevented them advertising online prices below Pride's recommended retail price for certain mobility scooters.
This was contrary to the Chapter I prohibition of the Competition Act 1998 (CA98). The OFT found that such practices limited consumers' ability to compare prices and get value for money. It instructed Pride and the retailers to bring the arrangements to an end and to refrain from entering into these or similar arrangements in the future.
Although the OFT announced its findings in March 2014, bringing its investigation to a close, the Competition and Markets Authority (CMA) has now published the non-confidential version of the decision, which sets out the detail of its findings.
Notes for editors
The decision relates to Pride and the following UK-wide online retailers: Careco (UK) Limited (formerly Discount Mobility Direct Limited), Discount Mobility Plus Limited/Rutland Mobility Limited, Mobility 4 U Limited, MT Mobility Limited/Hooplah Limited, Robert Gregg Limited (trading as Mobility Warehouse), Hartmond Limited, Milton Keynes Mobility Limited and Better Mobility Limited. Certain of those retailers also operate physical retail shops.
The Chapter I prohibition of the CA98 prohibits, among other matters, agreements and concerted practices between undertakings that have the object or effect of preventing, restricting or distorting competition in the UK or a part of it and which may affect trade in the UK or a part of it. Section 39(3) of the CA98 provides that a party to a 'small agreement' (and which is not a price fixing agreement) is immune from financial penalties for an infringement of the Chapter I prohibition. A 'small agreement' is an agreement between undertakings whose combined turnover did not exceed £20 million in the business year ending in the calendar year preceding the one during which the infringement occurred. The OFT reviewed the turnover of Pride and each of the 8 retailers involved in the infringement and found that they all benefit from this immunity from penalties.
The OFT carried out a market study into the mobility aids sector in 2011 which identified several areas of concern. Following the market study, the OFT undertook a range of activities to address some key problems it found in the mobility aids sector. Further details on this investigation and the OFT's earlier market study into mobility aids can be found on the project case page.
Published 30 October 2014