Press release
CMA opens consultation on 2016/17 annual plan
The CMA is seeking views on an ambitious work programme as it opens a consultation on its 2016/17 annual plan.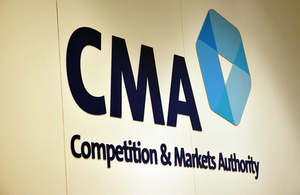 Entering its third year of existence following reform of the competition regime, the Competition and Markets Authority (CMA) intends to build on its record of enhancing welfare by upholding and implementing competition and consumer law.
The importance of competition in helping to deliver greater productivity and drive economic growth was emphasised in 'A Better Deal', a competition plan recently published by the government, and the draft annual plan stresses the CMA's intention to meet that challenge and help to achieve good outcomes for consumers and minimise the regulatory burden on business.
A key element of work in 2016/17 will be completing the banking and energy market investigations, and then implementing any necessary reforms.
The CMA also intends to place an even greater emphasis on enforcement to combat breaches of competition and consumer law. It proposes to focus on making progress in existing cases and uncovering new issues, and to continue using the example of strong enforcement to raise the profile of the law and encourage greater compliance.
The digital world is becoming ever more important to consumers and businesses and, in recognition of that, the CMA proposes to examine particular digital sectors, behaviours and issues where it feels it can make the greatest impact. This includes undertaking an analysis of price comparison websites.
Minimising burdens for business and achieving the greatest value for taxpayers and consumers are important goals, and therefore the draft plan pledges to increase the pace of the CMA's work without compromising rigour and fairness.
In addition to the analysis of price comparison websites, specific pieces of work the CMA intends to carry out include reviewing more markets and mergers remedies.
The CMA has made decisions on over 120 phase 1 mergers and, in banking and energy, opened 2 of the biggest market investigations in the history of the UK competition regime. It has also launched a project to review existing merger and markets remedies to identify and remove those that are no longer needed and which place unnecessary restrictions on businesses, productivity and growth; more than one third of the structural mergers remedies which were more than 10 years old are no longer in place following the first phase of this comprehensive programme.
Market investigations into, amongst others, private motor insurance and payday lending, have had a real impact and the CMA has continued its advocacy to government role and undertaken regulatory appeals.
The CMA has also carried out a range of consumer enforcement projects, including successful interventions in secondary ticketing and car hire, and taken on the Presidency of the International Consumer Protection and Enforcement Network.
Since its inception in April 2014, the CMA has issued fines in 2 Competition Act 1998 cases (CA98) and launched 7 new CA98 cases while also focusing on improving awareness of the law among businesses.
David Currie, CMA Chairman, said:
We have set out for consultation a challenging programme for the coming year, working to ensure that consumers benefit from strong competition and fair business practices. Our banking and energy investigations are entering a vital stage, we are reviewing substantial mergers of significance to the UK economy, and we will be ensuring that competition is enhanced, to help deliver greater productivity and economic growth.

This will all be done as we strive to increase the pace at which we work, without sacrificing our high standards of professionalism, and look at new sectors of the economy against the backdrop of our ongoing ambition consistently to be one of the leading consumer and competition agencies in the world.
Notes for editors
The CMA is the UK's primary competition and consumer authority. It is an independent non-ministerial government department with responsibility for carrying out investigations into mergers, markets and the regulated industries and enforcing competition and consumer law. From 1 April 2014 it took over the functions of the Competition Commission and the competition and certain consumer functions of the Office of Fair Trading, as amended by the Enterprise and Regulatory Reform Act 2013. For more information see the CMA's homepage on GOV.UK.
Enquiries should be directed to Simon Belgard (simon.belgard@cma.gsi.gov.uk or 020 3738 6472).
Published 14 December 2015