Press release
CMA welcomes competition plan
The CMA has welcomed the publication of the government's 'better deal' plan.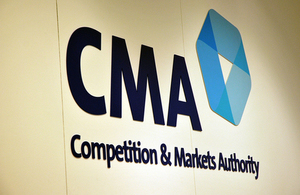 A better deal: boosting competition to bring down bills for families and firms - sets out the steps the government will take to promote open and competitive markets, reaffirming its commitment to strong competition which improves productivity by encouraging innovation and efficiency. It identifies competition as one key aspect of the government's broader plan to improving productivity in the UK.
Alongside the plan, the latest strategic steer to the Competition and Markets Authority (CMA) has been published. This is a ministerial statement outlining the government's aspirations for the CMA during this Parliament, and provides a clear statement of how the government sees competition supporting its wider objectives for the economy.
The CMA today announced its intention, as confirmed in the plan, to undertake an analysis of price comparison websites during 2016. Such websites have delivered significant benefits to consumers, and the CMA wants to ensure they are meeting their full potential in allowing consumers to compare and switch products. Among the issues considered will be whether there is a case for a common accreditation framework, whether lack of access to free, readily-available tariff data is a barrier for new and innovative price comparison websites, and whether price comparison websites in specific sectors should be subject to more rigorous propriety and transparency standards.
The government is also consulting on the introduction of civil fining powers for breaches of consumer protection laws, as part of a wider call for evidence on how to improve engagement with terms and conditions and ensure the terms that bind consumers are fair in practice.
The plan also states the government's intention to take action on some of the outstanding policy recommendations made by the Office of Fair Trading (OFT) (one of the CMA's predecessor organisations) following previous studies into improving competition in dentistry, school uniforms and pharmacies.
The plan states that:
The government will ask NHS England to reinforce the existing contractual requirement to ensure dentistry patients understand NHS treatment and prices, and to further improve the information available through NHS Choices by spring 2016.
It will also put existing best practice guidance for school uniform supply in England on a statutory footing. This will ensure that schools deliver the best value for parents by avoiding exclusivity arrangements unless regular competitions for suppliers are run.
It will examine the NHS community pharmacy market to ensure that the regulatory framework and payments system is efficient, encourages competition and innovation, and that it facilitates online, delivery to door and click and collect, pharmacy and prescription services.
Alex Chisholm, CMA Chief Executive, said:
We welcome the government's continuing commitment to the importance of competition for the economy and consumers, as shown in both the plan and the strategic steer. Although we choose and carry out our work as an independent authority, support for our overall aims and purpose - and our actions or proposals to improve markets - is good news.

Price comparison websites are an important tool for customers when choosing suppliers or products in many different markets - indeed they have featured prominently in several of our recent investigations. It is therefore a fitting time to look at these in the round. The growth of such websites has given customers a powerful ally in searching for and choosing the best deals. We want to see whether there are general or specific areas where they could work even better for consumers.

Stronger fining powers for consumer law breaches could give us real firepower in our efforts to look after customer interests, going some way to matching those we have for competition law. We'll await with great interest the results of the government's consultation on this issue.

We're also pleased at the commitment to follow up on outstanding recommendations to government resulting from market studies carried out by the OFT.
On school uniforms, he said: "School uniforms are an unavoidable purchase and exclusive agreements with retailers push up prices for hard pressed parents. We're delighted that the government is backing up our continuing efforts with a clear direction that parents should be given a choice."
On dentistry, he said: "Patients have been in the dark for too long when it comes to having the information they need for choosing a dentist or when getting treatment."
On pharmacies, he said: "Regulations have denied customers the convenience that they take for granted when buying other products - changing this would save them time and money."
Notes for editors
The CMA is the UK's primary competition and consumer authority. It is an independent non-ministerial government department with responsibility for carrying out investigations into mergers, markets and the regulated industries and enforcing competition and consumer law. From 1 April 2014 it took over the functions of the Competition Commission and the competition and certain consumer functions of the OFT, as amended by the Enterprise and Regulatory Reform Act 2013.
For information on the CMA see our homepage, or follow us on Twitter @CMAgovuk, Flickr and LinkedIn.
Enquiries should be directed to Rory Taylor (rory.taylor@cma.gsi.gov.uk, 020 3738 6798).
Published 30 November 2015