Press release
CMA makes new director appointments
The Competition and Markets Authority is pleased to announce 4 new appointments to its merger and legal teams.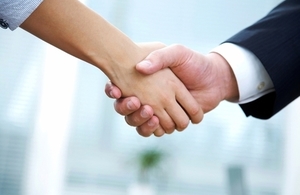 Joel Bamford and Colin Raftery both become directors of mergers. They will join the mergers group and work across the phase 1 and 2 mergers portfolio, managing complex merger cases and leading multi-disciplinary teams investigating mergers across a wide range of sectors. They both join the Competition and Markets Authority (CMA) on 21 November.
Tim Capel and Martim de Lancastre Valente both become legal directors, taking management responsibility for legal teams and providing high quality legal advice across the CMA's competition and regulatory case work. Martim joins the CMA on 3 October and Tim joins on 31 October.
Notes for editors
Joel Bamford and Colin Raftery will join current directors of mergers, Stephanie Canet and Andrew Wright, in the senior team reporting to Sheldon Mills, Senior Director, Mergers.
Joel is a senior economist at the New Zealand Commerce Commission working on a range of competition and merger cases. His most recent role as Advocacy Manager at the commission involved him managing a range of high profile advocacy and international issues on competition policy and consumer protection. Joel previously served as Economic Adviser to both the UK Office of Fair Trading and the UK Department for Work and Pensions.
Colin is a Senior Associate at Freshfields Bruckhaus Deringer (London), where he advises a wide range of clients on UK and EU competition law, merger control proceedings, antitrust investigations and information exchanges. Before that, he was an Associate at Cleary Gottlieb Steen and Hamilton (Brussels) as a specialist in EU competition law.
Tim Capel and Martim de Lancastre Valente will both report to Claudia Berg, Senior Legal Director, Antitrust Enforcement, and Andrea Gomes da Silva, Senior Legal Director, Markets, Mergers and Regulatory Appeals.
Tim was previously Senior Associate in the Antitrust, Competition and Economic Regulation practice at Hogan Lovells (London). He is highly experienced in advising the financial, insurance, consumer goods and transport sectors on EU and UK competition law, including antitrust, cartel and market investigations, mergers and judicial review proceedings.
Martim was previously a Senior Associate at Freshfields Bruckhaus Deringer (London) where he advised clients on all aspects of EU and UK competition, including high profile acquisitions in the banking and retail sectors, information exchanges, antitrust compliance programmes and standards setting. Before that, he was Associate at Cleary Gottlieb Steen & Hamilton (Brussels) where he specialised in EU anti-cartel proceedings and merger reviews.
The CMA is the UK's primary competition and consumer authority. It is an independent non-ministerial government department with responsibility for carrying out investigations into mergers, markets and the regulated industries and enforcing competition and consumer law. For more information see the CMA's homepage on GOV.UK.
The CMA has responsibility for merger control review in the UK and reviews around 60 to 80 cases per annum with a range of cases involving remedies or more detailed phase 2 investigations. For more information see the CMA's mergers page.
Media enquiries should be directed to Neil Kernohan (neil.kernohan@cma.gsi.gov.uk, 020 3738 6170).
Published 15 September 2016