Press release
CMA lays out plans for coming year
The CMA has today published its programme for 2015 to 2016 aimed at helping markets to work well for consumers, businesses and the economy.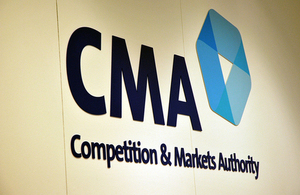 The annual plan says that the Competition and Markets Authority (CMA) will continue to deliver against its strategic goals through the enforcement of competition and consumer law, undertaking market studies and investigations, operating merger control, partnership and advocacy, and developing itself as a new organisation.
The CMA enters its second year with a substantial portfolio of ongoing work. The energy market investigation is due to deliver its final report towards the end of 2015 and the banking investigation is also progressing. In addition, a number of competition and consumer enforcement cases are approaching key milestones and cartel enforcement will remain a priority, with the CMA's first criminal cartel case due to come to trial in June this year. The CMA also has 5 mergers currently under detailed scrutiny at phase 2, and has 3 regulatory appeals open.
The CMA has ambitions to extend its work into new sectors where it has discretionary powers to intervene. Its focus for the year ahead is informed by its Strategic Assessment, which identified 6 areas that present risks and challenges. These are factors inhibiting consumer choice, the digital economy, emerging sectors, regulated sectors, markets for public services, and markets which significantly affect economic growth.
Advocacy and developing productive relationships with policymakers and regulators in the UK and internationally are crucial to maximising the impact of the CMA's work, so it is especially pleased to be assuming the Presidency of the International Consumer Protection and Enforcement Network from July 2015 to June 2016. During its term of office, the CMA aims to build on the successes of previous presidencies to achieve positive outcomes for consumers across the world.
David Currie, CMA Chairman, said:
We have a great deal to deliver in the coming year; our energy and banking investigations are ongoing, much of our enforcement work will reach key milestones and we are examining a range of sectors which are important to consumers and to economic growth, including looking closely at emerging digital opportunities and risks.

Our ambition is to be consistently one of the leading competition and consumer agencies in the world, and we are confident that in 2015 to 2016 we can and will make major steps towards achieving this.
Notes for editors
The CMA is the UK's primary competition and consumer authority. It is an independent non-ministerial government department with responsibility for carrying out investigations into mergers, markets and the regulated industries and enforcing competition and consumer law. From 1 April 2014 it took over the functions of the Competition Commission and the competition and certain consumer functions of the Office of Fair Trading, as amended by the Enterprise and Regulatory Reform Act 2013.
See the CMA's annual plan for 2015 to 2016.
The CMA's 5 strategic goals are to deliver effective enforcement; extend competition frontiers, refocus consumer protection, achieve professional excellence and develop integrated performance.
For more information on the CMA see our homepage or follow us on Twitter @CMAgovuk, Flickr and LinkedIn.
Enquiries should be directed to Simon Belgard (simon.belgard@cma.gsi.gov.uk,020 3738 6472).
Published 24 March 2015