CMA issues statement of objections to Pfizer and Flynn Pharma in anti-epilepsy drug investigation
The CMA has today issued a statement of objections to the pharmaceutical suppliers Pfizer and Flynn Pharma alleging that they have breached competition law.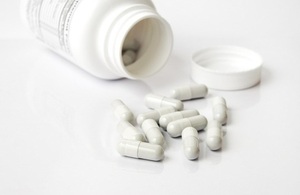 The Competition and Markets Authority's (CMA) provisional view is that Pfizer and Flynn Pharma each abused a dominant position by charging excessive and unfair prices in the UK for phenytoin sodium capsules, an anti-epilepsy drug, in breach of UK and EU competition law.
Phenytoin sodium capsules are used in the treatment of epilepsy in order to prevent and control seizures and are an important drug for over 50,000 patients in the UK. Pfizer manufactures phenytoin sodium capsules and supplies them to Flynn Pharma, which then distributes them to UK wholesalers and pharmacies. The statement of objections concerns both the prices that Pfizer has charged to Flynn Pharma and the prices that Flynn Pharma has charged to its customers, since September 2012.
Prior to September 2012, Pfizer manufactured and sold phenytoin sodium capsules to UK wholesalers and pharmacies under the brand name Epanutin®. Pfizer sold the UK distribution rights for Epanutin® to Flynn Pharma, which de-branded (or genericised) the drug and started selling its version in September 2012. Pfizer continued to manufacture the drug, which it sold to Flynn at prices that were significantly higher than those at which it had previously sold Epanutin® in the UK – between 8 and 17 times Pfizer's historic prices. Flynn then sold the drug on to customers at prices which were between 25 and 27 times higher than those historically charged by Pfizer.
Prior to September 2012, the NHS spent approximately £2.3 million on phenytoin sodium capsules annually. This spend (paid to Flynn and other suppliers of phenytoin sodium capsules) was just over £50 million in 2013 and over £40 million in 2014.
Ann Pope, CMA Senior Director of Antitrust Enforcement, said:
While businesses are generally free to set prices as they see fit, those that hold a dominant position have a special responsibility to ensure that their conduct does not impair genuine competition and that their prices are not excessive and unfair. The prices that the CMA is concerned about in this case are very high compared to those prices previously charged and have led to a big increase in the total NHS drug bill for what is a very important drug for tens of thousands of patients.

The CMA's findings on dominance and abuse are provisional and no conclusion can be drawn at this stage that there has, in fact, been any breach of competition law. We will carefully consider any representations from Pfizer and Flynn Pharma before deciding whether the law has been infringed.
Notes for editors
The CMA is the UK's primary competition and consumer authority. It is an independent non-ministerial government department with responsibility for carrying out investigations into mergers, markets and the regulated industries and enforcing competition and certain consumer law. From 1 April 2014 it took over the functions of the Competition Commission and the competition and certain consumer functions of the Office of Fair Trading.
The Chapter II prohibition of the Competition Act 1998 prohibits the abuse of a dominant position by one or more undertakings which may affect trade within the UK or a part of it. Similarly, Article 102 of the Treaty on the Functioning of the European Union prohibits the abuse of a dominant position which may affect trade between EU Member States.
The CMA may impose a financial penalty on any business found to have infringed the Chapter II prohibition or Article 102 (or both) of up to 10% of its annual worldwide group turnover. In calculating financial penalties, the CMA takes into account a number of factors including seriousness of the infringement(s), turnover in the relevant market and any mitigating and/or aggravating factors.
Phenytoin sodium capsules are sold in 4 different strengths in the UK; 25mg, 50mg, 100mg and 300mg capsules. The statement of objections concerns the price that each of Pfizer and Flynn Pharma charged for each of those capsule strengths.
The statement of objections is addressed to the following companies, which the CMA provisionally considers were directly involved in the alleged infringements since September 2012: * Pfizer Limited * Flynn Pharma Limited
The statement of objections is also addressed to the following companies, which the CMA provisionally considers are jointly and severally liable as parent companies of the companies directly involved: * Pfizer Inc * Flynn Pharma (Holdings) Limited
A statement of objections gives parties notice of a proposed infringement decision under the competition law prohibitions in the Competition Act 1998 or the Treaty on the Functioning of the European Union. It is a provisional decision only and does not necessarily lead to an infringement decision. Parties have the opportunity to make written and oral representations on the matters set out in the statement of objections. Any such representations will be considered by the CMA before any final decision is made. The final decision is taken by a three-member case decision group, which is separate from the case investigation team and was not involved in the decision to issue the statement of objections.
The statement of objections will not be published. However, any person who wishes to comment on the CMA's provisional findings, and who is in a position materially to assist the CMA in testing its factual, legal or economic arguments, may request a non-confidential version of the statement of objections by contacting the CMA no later than 31 August 2015.
For more information see our homepage or follow us on Twitter @CMAgovuk, Flickr and LinkedIn. Sign up to our email alerts to receive updates on Competition Act 1998 and cartels cases.
Enquiries should be directed to Kasia Reardon (kasia.reardon@cma.gsi.gov.uk, 020 3738 6901).
Published 6 August 2015