Press release
CMA highlights key issues for consumers as it consults on priorities for its second year
The CMA has published its Strategic Assessment of the risks that consumers and markets face, alongside a consultation on its draft annual plan for next year.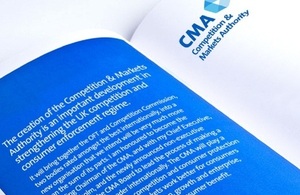 The Assessment draws on input from a range of organisations including consumer bodies, business groups, enforcers, regulators, other government departments, the Competition and Markets Authority's (CMA) international counterparts, and specialists in consumer and competition issues, alongside intelligence and insight from a range of other sources including within the CMA.
It sets out the authority's understanding of the key risks to consumers' economic welfare and the efficient functioning of markets across the UK economy in the years ahead.
The draft annual plan shows that the CMA will focus a significant part of its work next year on its existing programme which includes major market investigations into banking and energy, a substantial number of ongoing enforcement cases and leading the presidency of the International Consumer Protection and Enforcement Network (ICPEN).
The plan also proposes an active programme of new case and project openings including Competition Act investigations, consumer protection cases, market studies or calls for information and compliance work to support the impact of enforcement activity. The CMA will also conduct merger control and regulatory appeals as required.
Where the CMA has discretion on which projects to pursue, it uses its prioritisation principles, one of which is strategic significance. Its assessment of strategic significance includes whether or not a case would fall within one of the 6 overarching themes identified in the Strategic Assessment. These are:
Online and the digital economy
Despite bringing significant benefits to consumers in terms of increased choice, lower costs and more innovation, it does raise risks and create vulnerabilities. Some risks have materialised and others are emerging. We need to understand developments and their implications, especially where there is potential for consumers to be harmed.
Technology and emerging sectors
Challenger businesses, innovative business models and new technologies have the potential to offer increased choice, innovation and potentially lower prices to consumers, as well as contributing to economic growth. However, they may also face anti-competitive barriers to their establishment. It is therefore important that we understand their potential and any barriers to this being realised, along with the opportunities and risks those changes present.
Regulated sectors and infrastructure markets
The regulated sectors provide essential services to virtually every household and business in the UK. The CMA sees an increased role for competition, and for competition law as beneficial for consumers - by way of downward pressure on prices, upward pressure on quality standards and spurs to innovation.
Public services markets
Competition and market-based solutions can play a part in public service delivery, with the ability to deliver lower prices, increase efficiency and offer greater choice for consumers. The CMA has a role to play in considering whether recent market-based reforms have delivered the benefits of choice and competition in practice. It can also advise government on the design of market reforms and help government to design procurement in a way to reduce the opportunities for bid-rigging; the CMA can also investigate bid-rigging cases.
Sectors important to growth and economic recovery
It remains fundamental to the CMA's goals to ensure that those sectors of the economy which play a significant role in the growth of the UK economy are characterised by healthy competition.
Factors that may inhibit consumers' ability to access markets and may affect consumers' decision-making
The Assessment also focuses on factors that may inhibit consumers' ability to access markets and may affect consumers' decision-making including where companies may exploit the behavioural biases that consumers sometimes display.
The CMA's overall mission and strategy remain as published in January 2014 and its current caseload is in the case directory on GOV.UK. The consultation on the annual plan will last for 8 weeks and close on 23 January 2015.
David Currie, CMA Chairman, said:
It is vitally important that markets work well for consumers, businesses and the economy. Our Strategic Assessment identifies the key issues that we see in markets in the period ahead, which will help us prioritise our work where we can add the most value.

As a new organisation, the CMA hit the ground running in April 2014, and it is our ambition to build on that strong start and increase our impact next year and in the years to come. We look forward to views on whether our draft annual plan meets that ambition.
Notes for editors
The CMA is the UK's primary competition and consumer authority. It is an independent non-ministerial government department with responsibility for carrying out investigations into mergers, markets and the regulated industries and enforcing competition and consumer law. From 1 April 2014 it took over the functions of the Competition Commission and the competition and certain consumer functions of the Office of Fair Trading, as amended by the Enterprise and Regulatory Reform Act 2013. For more information see the CMA's homepage on GOV.UK.
For CMA updates, follow us on Twitter @CMAgovuk, Flickr and LinkedIn. For CMA case updates sign up to our daily email alerts.
Enquiries should be directed to Rory Taylor on 020 3738 6798 or Simon Belgard on 020 3738 6742.
Published 27 November 2014