Press release
CMA fines Ping £1.45m for online sales ban on golf clubs
Golf club manufacturer Ping Europe Limited (Ping) has been fined £1.45 million for banning UK retailers from selling its golf clubs online.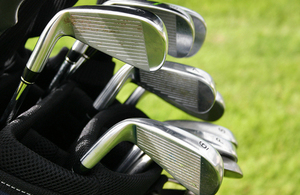 The Competition and Markets Authority (CMA) has found that Ping broke competition law by preventing 2 UK retailers from selling its golf clubs on their websites. Ping is required to bring the online sales ban to an end, and must not impose the same or equivalent terms on other retailers.
Whilst Ping must allow retailers to sell online it may require them to meet certain conditions before doing so. These conditions must, though, be compatible with competition law.
The CMA found that, while Ping was pursuing a genuine commercial aim of promoting in-store custom fitting, it could have achieved this through less restrictive means.
Ann Pope, Senior Director for Antitrust enforcement, said:
The internet is an increasingly important distribution channel and retailers' ability to sell online, and reach as wide a customer base as possible, should not be unduly restricted.

The fine the CMA has today imposed on Ping should act as a warning to companies that preventing its products from being sold online could be illegal.
The level of the fine imposed on Ping reflects that the CMA found the breach of competition law occurred in the context of a genuine commercial aim of promoting in-store custom fitting.
Notes for editors
The CMA is the UK's primary competition and consumer authority. It is an independent non-ministerial government department with responsibility for carrying out investigations into mergers, markets and the regulated industries and enforcing competition and consumer law. For CMA updates, see our homepage or follow us on Twitter @CMAgovuk, Facebook, Flickr and LinkedIn. Sign up to our email alerts to receive updates on Competition Act 1998 and civil cartels cases.
The non-confidential decision will be published on the case page in due course following the redaction of commercially sensitive information.
The Chapter I prohibition of the Competition Act 1998 covers anti-competitive agreements, concerted practices and decisions by associations of undertakings which have as their object or effect the prevention, restriction or distortion of competition within the UK or a part of it and which may affect trade within the UK or a part of it. Similarly, Article 101 of the Treaty on the Functioning of the European Union (TFEU) prohibits such anti-competitive agreements, concerted practices and decisions by associations of undertakings which may affect trade between EU member states.
Any business found to have infringed the Competition Act 1998 could be fined up to 10% of its annual worldwide group turnover. In calculating financial penalties, the CMA takes into account a number of factors including seriousness of the infringement(s), turnover in the relevant market and any mitigating and/or aggravating factors. In addition, adjustments may then be made to reflect the specific size and financial position of the business in question.
A penalty has been imposed on Ping Europe Limited which was directly involved in the infringements. The CMA has not imposed penalties on those retailers with whom Ping Europe Limited entered the infringing agreements in this case. The CMA has applied rule 10(2) of its Competition Act 1998 Rules, according to which it may address its infringement decision to fewer than all the persons who were party to the relevant agreements. Although the CMA has decided in this case to impose a fine only on the supplier, retailers should be aware that they can also be fined for entering into agreements containing anti-competitive restrictions with suppliers.
Any business that has concerns about an online sales ban or other anti-competitive behaviour can contact the CMA through our online form or by phone (020 3738 6000). If you have been involved, you may even benefit from lenient treatment by coming forward to the CMA. See our leniency pages for more information about how to apply for leniency as well as leniency benefits, eligibility and conditions.
Following publication of the statement of objections in June 2016, the final decision has been taken by a case decision group, the members of which are separate from the case investigation team and who were not involved in the decision to issue the statement of objections.
Enquiries should be directed to press@cma.gsi.gov.uk or 020 3738 6798.
Published 24 August 2017