Press release
CMA extends energy investigation timetable
The CMA has extended the timetable for its investigation into the energy market.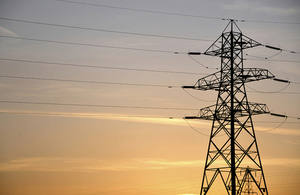 The statutory framework allows the Competition and Markets Authority (CMA) to extend its timetable by 6 months from 25 December 2015 to 25 June 2016, although it aims to deliver well within this timeframe. It is now planning to publish its provisional decision on remedies in January 2016 with a view to reaching its final decision by the end of April 2016.
The extension is to allow the CMA sufficient time to consider the many detailed responses received from suppliers, consumer groups, government and regulators to the provisional findings and range of potential remedies published in July. The inquiry group also wants to ensure it has sufficient time to conclude the further evidence-gathering and analysis required for the final report and to design any subsequent remedy package so that it is as comprehensive a solution as reasonable and practicable to any competition problems identified in the final report.
Market investigation inquiry groups are permitted to extend the statutory deadline by 6 months in circumstances such as this where there are special reasons.
Roger Witcomb, Chairman of the energy market investigation, said:
This investigation - and the measures that could result from it - will have long-standing consequences for millions of customers in an industry of vital importance to the whole country.

As the most comprehensive investigation into the energy market since privatisation, this is a once in a generation opportunity to shape the future of this market for the better. It's important that we get it right.

Our provisional findings identified a large number of areas where there might be a competition problem, including a possible lack of consumer engagement in both domestic and microbusiness sectors, the 'four tariffs rule', DECC's processes for allocating clean energy subsidies, the industry's gas and electricity settlement systems, the roles of Ofgem and DECC in regulatory decision-making, locational pricing of electricity, and energy code governance. We now need to refine our analysis in the light of the many responses we have received, to design potential measures that are effective and proportionate to remedy each possible issue, and then to consult widely on those potential measures.

This is a huge programme of work and we have concluded that we could not complete it by the original statutory deadline. We have therefore decided there are special reasons for extending the reference period which will allow us some extra time to finish the job.
Notes for editors
The CMA is the UK's primary competition and consumer authority. It is an independent non-ministerial government department with responsibility for carrying out investigations into mergers, markets and the regulated industries and enforcing competition and consumer law. From 1 April 2014 it took over the functions of the Competition Commission and the competition and certain consumer functions of the Office of Fair Trading under the Enterprise Act 2002, as amended by the Enterprise and Regulatory Reform Act 2013. For more information see the CMA's homepage on GOV.UK.
The members of the Energy Market Investigation Group are: Roger Witcomb (Chairman), Lesley Ainsworth, Martin Cave, Malcolm Nicholson and Robert Spedding. The appointed Investigation Group act as the decision makers and have been chosen from the CMA's panel members, who come from a variety of backgrounds, including economics, law, accountancy and business.
In its investigation, the CMA is required to decide whether 'any feature, or combination of features, of each relevant market prevents, restricts or distorts competition in connection with the supply or acquisition of any goods or services in the United Kingdom or a part of the United Kingdom'. If so, then there is an adverse effect on competition and the CMA will also consider whether this is resulting in a detrimental effect on customers such as higher prices, lower quality or less choice of goods or services. The CMA will then decide whether it should introduce remedies to tackle the adverse effect on competition or detrimental effect on customers so far as it has resulted from, or may be expected to result from, that adverse effect on competition, or whether it should recommend action be taken by other bodies to remedy the adverse effects on competition, and if so, what action should be taken. If the CMA finds that there is no adverse effect on competition, the question of remedies will not arise.
The revised case timetable is available on the energy market investigation case page.
Enquiries should be directed to Rory Taylor (rory.taylor@cma.gsi.gov.uk, 020 3738 6798).
Published 21 September 2015