Press release
CMA consults on renewing public transport ticketing block exemption
The CMA is consulting on whether a block exemption from UK competition law for multi-operator ticketing arrangements should be renewed.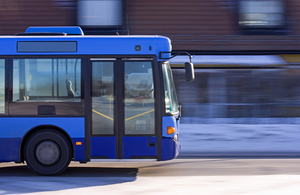 The Competition and Markets Authority (CMA) is proposing to recommend to the government that the existing block exemption, which expires in February 2016, should be renewed until 2026 because the arrangements it covers benefit consumers through improvements in the quality, flexibility and ease of use of public transport.
The schemes covered by the exemption involve agreements between public transport operators which allow for limited co-operation between them to enable arrangements such as those for multi-operator travel cards or through ticketing.
Agreements between transport operators can raise competition concerns, for example, where they involve competing operators agreeing pricing and revenue sharing. However, where they enable consumers to use through tickets or use travel cards on journeys with different operators, they provide considerable benefits for consumers. The effect of the block exemption is to give a 'safe harbour' from competition law to schemes that fall within its scope.
The CMA has reviewed whether developments in smart ticketing technologies and products in recent years, and those which are anticipated in the near future, justify changes to the block exemption but its provisional view is the current exemption remains fit for purpose.
The CMA will consider responses to the consultation before it makes a final recommendation at the end of this year.
Roland Green, CMA Deputy General Counsel, said:
We currently think that the block exemption for ticketing schemes should be retained as the ticketing schemes it covers benefit passengers. However, before we reach a final recommendation, we are very keen to hear the views of interested parties.

If the block exemption is renewed, we will provide updated guidance to help transport operators, local authorities and others understand its application and when it would apply to new schemes, such as those using smart ticketing technologies.
If you wish to respond to the consultation, please do so in writing by 16 September 2015 to:
Ticketing block exemption review
Competition and Markets Authority
Victoria House
Southampton Row
London
WC1B 4AD

Email: ticketingblockexemption@cma.gsi.gov.uk
Notes for editors
The CMA is the UK's primary competition and consumer authority. It is an independent non-ministerial government department with responsibility for carrying out investigations into mergers, markets and the regulated industries and enforcing competition and consumer law.
The Chapter I prohibition of the Competition Act 1998 (the Act) prohibits agreements between undertakings, decisions by associations of undertakings or concerted practices which may affect trade within the UK and have as their object or effect the prevention, restriction or distortion of competition within the UK.
An agreement that falls within the Chapter I prohibition, but which satisfies the conditions set out in section 9(1) of the Act can be exempted from the prohibitions in the Act. This means that potentially restrictive agreements will be lawful where they produce countervailing economic efficiencies that outweigh the restrictions, and which are shared with consumers, so long as the agreements do not impose restrictions that are not indispensable to achieving the benefits, nor afford the undertakings concerned the possibility of eliminating competition in respect of a substantial part of the products or services in question.
Since 2004, businesses have had to self-assess whether their agreements comply with competition law and, where appropriate, whether they meet the conditions for an exemption under section 9(1) of the Act. Section 6 of the Act also provides that the CMA may recommend to the Secretary of State that a particular category of agreement which it considers is likely to meet the section 9(1) exemption criteria be block exempted by order.
The Competition Act 1998 (Public Transport Ticketing Schemes Block Exemption) Order (SI 2001 No 319) came into force on 1 March 2001 and was subsequently amended, most recently by the Competition Act 1998 (Public Transport Ticketing Schemes Block Exemption) (Amendment) Order 2011 (SI 2011 No. 227) that came into force on 28 February 2011. It covers ticketing schemes that provide multi-operator travel cards, multi-operator individual tickets, through tickets and short and long distance add-on tickets for local travel on buses, trains, trams and domestic ferry services. The block exemption sets out a number of conditions which a ticketing scheme must satisfy in order to benefit from it.
Read the current guidance explaining the application of the existing block exemption: Public transport ticketing schemes block exemption (OFT 439, November 2006).
Enquiries should be directed to Siobhan Allen (siobhan.allen@cma.gsi.gov.uk, 020 3738 6798).
Published 5 August 2015