News story
CMA consults on provisional advice to release BAES undertakings
The CMA provisionally considers that BAES should be released from long-standing competition requirements as they are no longer appropriate.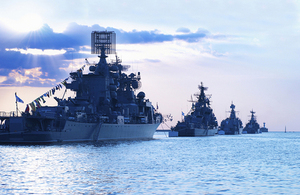 The undertakings require BAE Systems plc (BAES), where possible, to provide access to its resources to actual or potential prime contractors bidding for or performing contracts for the purposes of a Ministry of Defence (MoD) programme.
The group of Competition and Markets Authority (CMA) independent panel members reviewing the undertakings intends to advise the Secretary of State for Business, Energy and Industrial Strategy (BEIS) that changes of circumstances mean the undertakings are no longer appropriate.
The review has looked at 4 defence sectors (warships, submarines, combat aircraft and munitions) and found that there have been relevant changes of circumstances. For example:
the MoD has moved away from a competitive procurement process, instead making greater use of long-term exclusive agreements and alliances;

BAES has sold or closed its businesses in a number of sectors; and

the capabilities of other defence contractors have developed such that any potential reliance on BAES has diminished.
This has meant a reduced role for the prime contractor model where competing suppliers might need to use the undertakings to facilitate access to BAES resources. The group's view is that there is also little prospect of this situation changing in the foreseeable future.
The group therefore provisionally intends to advise that, in view of the changes of circumstances, the undertakings are no longer appropriate and that BAES should be released from them. It will now consult before sending its final advice to BEIS in the spring. The ultimate decision rests with the Secretary of State.
CMA reviews of undertakings examine whether there has been a change of circumstances and if so, whether the undertakings remain appropriate or whether they should be varied or superseded or a company should be released from them.
The CMA began reviewing these undertakings in July 2016 after a request by BAES. The undertakings were originally given by British Aerospace plc (now BAES), to the then Secretary of State for Trade and Industry, following its merger with the Marconi Electronic Systems business of General Electric Company plc in 1999. Following Office of Fair Trading (OFT) reviews, the Secretary of State released BAES from most of the undertakings by 2007.
The remaining undertakings were intended to help other actual or potential prime contractors to compete for contracts where they might need to sub-contract BAES' resources. BAES is also obliged to appoint a compliance officer to ensure this requirement is met.
The CMA group reviewing the undertakings is: John Wotton (Inquiry Chair), Rosalind Hedley-Miller and Jayne Scott.
Further details, including the CMA's full provisional advice can be found on the case page.
Anyone wishing to comment on the provisional advice should do so by 27 March by emailing baesreview@cma.gsi.gov.uk or writing to:
BAE Systems undertakings review
Competition and Markets Authority
Victoria House
Southampton Row
London
WC1B 4AD

Published 10 March 2017