News story
CMA considers undertakings in fruit juice merger
The CMA is to give detailed consideration to undertakings offered by Hain instead of referring the merger for an in-depth investigation.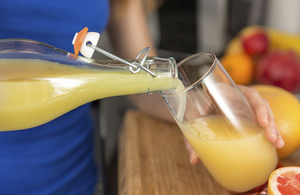 Hain Frozen Foods UK Limited (Hain) bought Orchard House Foods Limited in December 2015 and the Competition and Markets Authority (CMA) announced on 17 May 2016 that the merger would be referred for an in-depth phase 2 investigation unless acceptable undertakings were offered.
The companies are the only 2 suppliers of own-label freshly squeezed fruit juice to supermarket retailers. The companies are also 2 of the main suppliers of own-label freshly squeezed fruit juice to food service retailers such as cafes and restaurants, and face limited competition from other suppliers in this area. The CMA therefore believes that the merger raises competition concerns and could lead to higher prices of own-label freshly squeezed fruit juice for retailers and consumers.
Hain has now offered to sell its own-label freshly squeezed fruit juice business to a suitable purchaser and the CMA considers that this undertaking, or a modified version of it, might be acceptable.
The CMA will now consider whether to accept the proposed undertakings and will open a public consultation on whether they - and any proposed purchaser for the divestment business - are sufficient to address the competition concerns. If the CMA does not accept the undertakings, it will refer the merger for a phase 2 investigation.
All information relating to the investigation is available on the case page.
Published 1 June 2016