Press release
CMA clears NHS hospitals merger
The CMA today cleared the proposed merger of Chelsea and Westminster NHS Foundation Trust and West Middlesex University Hospital NHS Trust.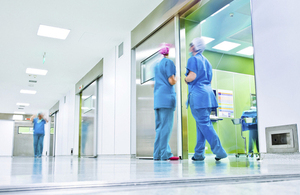 Both hospitals provide a wide range of NHS services to patients in north-west London.
The ability of patients and commissioning bodies to choose between hospitals gives healthcare providers strong incentives to improve the quality and efficiency of their services for the benefit of patients. The Competition and Markets Authority (CMA) analysed the merger on the basis of its impact on competition to attract patients for both inpatient and outpatient services by specialty, and to provide both elective (where the patient does not require immediate medical care) and emergency services for commissioning bodies.
The CMA examined evidence provided by the hospitals and relevant third parties, including Monitor, clinical commissioning groups (CCGs), NHS England specialised commissioning teams and other NHS hospitals.
The CMA's investigation looked at whether the merger is in the overall interest of patients and has found that it will not lead to a material reduction in competition between hospitals in the area or loss of choice for patients, CCGs, or NHS England. The CMA has noted that there will remain a number of alternative providers in the areas affected. These vary by specialty of treatment but include Imperial College Healthcare NHS Trust, London North West Healthcare NHS Trust, Royal Free London Foundation Trust, Great Ormond Street Foundation Trust and Hillingdon Hospitals Foundation Trust.
It does not believe that the merger will lead to a material reduction in the quality of services for patients (including clinical factors such as outcomes, infection rates and mortality rates, and non-clinical factors such as waiting times and patient experience) and will not materially reduce the hospitals' incentives to innovate and improve their services.
Nelson Jung, CMA Director of Mergers Group, said:
We have conducted an evidence-based assessment of the impact this proposed NHS hospital merger will have on patient choice and the quality of healthcare services. Overall, we found that there is no realistic prospect of this merger substantially lessening competition to the detriment of patients.

The CMA has now considered a number of hospital mergers and has cleared the majority of them. We have also issued guidance explaining our role in reviewing NHS hospital mergers earlier this year. As a result, it is increasingly understood that patient choice and the quality of healthcare services are at the heart of our assessment. The smooth running of this case is also attributable to the parties engaging early with both Monitor and the CMA to ensure that mergers raising no material competition issues can be dealt with swiftly.
Notes for editors
The CMA is the UK's primary competition and consumer authority. It is an independent non-ministerial government department with responsibility for carrying out investigations into mergers, markets and the regulated industries and enforcing competition and consumer law. From 1 April 2014 it took over the functions of the Competition Commission and the competition and certain consumer functions of the Office of Fair Trading, as amended by the Enterprise and Regulatory Reform Act 2013.
The CMA's role is to examine the impact that the merger could have on patient choice and the quality of healthcare services provided. The CMA undertakes an objective and evidence-based assessment of the effects of NHS mergers on competition and aims primarily to ensure that such mergers do not result in lower levels of quality of healthcare services for patients.
Chelsea and Westminster NHS Foundation Trust is located in Fulham Road, south-west London. It provides elective and non-elective inpatient and outpatient services as well as many specialist services. Its specialist services include: paediatric and neonatal surgery, neonatal intensive care unit, paediatric A&E, high-risk maternity, burns unit, dermatology, HIV, assisted conception unit, weight loss surgery and stroke services. West Middlesex University Hospital NHS Trust has 400 beds providing elective and non-elective services to patients primarily in the London Boroughs of Hounslow and Richmond upon Thames and neighbouring areas.
The CMA considered how it should take into account the service changes recommended by the Shaping a Healthier Future programme which has been prepared by 8 local CCGs in north-west London in dialogue with the local providers. It recommends some changes in elective and non-elective services in central Middlesex, Charing Cross, Ealing and Hammersmith NHS hospitals. The CMA concluded that if the proposed reconfiguration were to go ahead as planned it would not have materially changed its competitive assessment.
The CMA notified Monitor when it decided to carry out an investigation under the UK merger control rules, pursuant to section 79 of the Health and Social Care Act 2012, which applies to mergers involving NHS foundation trusts. Monitor provided the CMA with its advice on the effect of the merger under investigation, and this will be published on the case page for the merger as soon as is reasonably practicable. More information on Monitor's other regulatory functions and role can be found on its GOV.UK web pages.
Under the Enterprise Act 2002 a relevant merger situation is or will be created if 2 or more enterprises have ceased or will cease to be distinct enterprises; and the value of the turnover in the United Kingdom of the enterprise being taken over exceeds £70 million; or as a result of the transaction, in relation to the supply of goods or services of any description, a 25% share of supply in the United Kingdom (or a substantial part of it) is created or enhanced.
The full text of this decision will be placed on the case page for the merger as soon as is reasonably practicable.
Enquiries should be directed to Siobhan Allen (Siobhan.Allen@cma.gsi.gov.uk, 020 3738 6798).
For more information see the CMA's homepage, or follow us on Twitter @CMAgovuk, Flickr and LinkedIn. Sign up to our email alerts to receive updates on merger cases.
Published 19 December 2014