Press release
CMA Chief Executive to join DECC
Alex Chisholm, Chief Executive, is leaving the CMA to join the Department of Energy and Climate Change (DECC) as Permanent Secretary.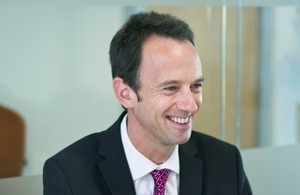 Alex was appointed in March 2013 and led the creation of the Competition and Markets Authority (CMA) as the UK's single competition authority, replacing the Office of Fair Trading and the Competition Commission. He has been Chief Executive since the CMA became fully operational on 1 April 2014.
Alex will leave the CMA on 3 July. The Department for Business, Innovation and Skills will run an open recruitment campaign for the new CMA Chief Executive. In the interim, Andrea Coscelli, CMA Executive Director of Markets and Mergers, will step up to CEO with immediate effect after Alex's departure.
David Currie, CMA Chairman, said:
I and the Board are very sorry to see Alex move on from the CMA but delighted for him that he is going to a very important role. We are hugely grateful that he has done such a superb job in creating the CMA on a powerful base and helping it to hit its stride. And with Andrea taking over on an interim basis, we know that the organisation continues with strong leadership while we search for Alex's successor.

On behalf of the whole organisation I would like to wish him well in his future career.
Alex said:
I would like to thank David, the Board and all my colleagues across the CMA for their tremendous efforts over the last two years and more. I am proud of what we have achieved together in securing important outcomes for consumers and the economy, from stepping up enforcement, to handling complex mergers and regulatory appeals, and conducting investigations in 2 of the biggest markets in our economy, banking and energy – the latter something I will of course still be heavily involved with in my new role.

So, although I am sad to be leaving, I know I leave the organisation in a strong position and in great hands and wish the CMA all the best for its future.
Notes for editors
Published 10 May 2016