Press release
CMA assumes ICPEN presidency
The CMA today takes up the presidency of the International Consumer Protection and Enforcement Network with plans to support consumers worldwide.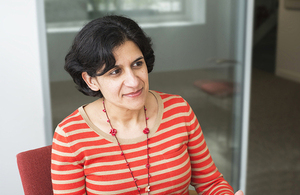 The UK's presidency follows Sweden's term as President, which ended on 30 June. During its presidency, the Competition and Markets Authority (CMA) will be working closely with other consumer enforcement bodies in the UK.
International Consumer Protection and Enforcement Network (ICPEN) President and CMA Senior Director Nisha Arora said:
We are honoured to take up the presidency of ICPEN on behalf of the UK for 2015 to 2016. We intend to use our presidency to place an even greater emphasis on collaborative enforcement within the network. Our aim is for ICPEN and its members to carry out valuable work in the interests of consumers. We also intend to deliver benefits for others in the UK landscape, for example, by helping to share international best practice and intelligence with UK partners.

The CMA presidency's slogan is 'Better Enforcement Together' and to reflect that we will be focusing on delivering enforcement to tackle issues of common concern to consumers across the globe.

In doing this, we will be building on the achievements made during Sweden's term as President and we will work to ensure that the network is in a good position when we hand over to Germany at the end of our year.
Areas of focus during the UK's presidency will include marketing and transparency of prices, and the online reviews and endorsements sector. The CMA will host and facilitate a number of events over the year, including a workshop in Manchester at which officers from the UK and across the world will share information and experience to advance ICPEN projects and assist investigations in member countries.
Notes for editors
The CMA is the UK's primary competition and consumer authority. It is an independent non-ministerial government department with responsibility for carrying out investigations into mergers, markets and the regulated industries and enforcing competition and consumer law. From 1 April 2014 it took over the functions of the Competition Commission and the competition and certain consumer functions of the Office of Fair Trading, as amended by the Enterprise and Regulatory Reform Act 2013.
ICPEN has 55 member countries. Its mandate is to share information about cross-border commercial activities that may affect consumer interests and to encourage international co-operation among law enforcement agencies in this scope.
The CMA's presidency begins on 1 July 2015 and ends on 30 June 2016. The German Federal Ministry of Justice and Consumer Protection will then take over the presidency.
Enquiries should be directed to Simon Belgard (simon.belgard@cma.gsi.gov.uk, 020 3738 6472).
For more information on the CMA see our homepage or follow us on Twitter @CMAgovuk, Flickr and LinkedIn. Sign up to our email alerts to receive updates on consumer enforcement cases.
Published 1 July 2015