Press release
CMA appoints standing counsel panel
The CMA has today announced the appointment of its panel of standing counsel.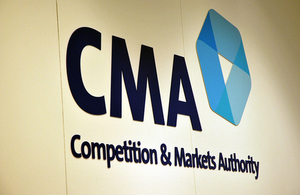 The panel consists of Marie Demetriou QC of Brick Court Chambers, Rob Williams of Monckton Chambers and David Bailey of Brick Court Chambers. The appointments have been made with the approval of the Attorney General and follow an open competition.
Having reviewed its use of counsel, the Competition and Markets Authority (CMA) has decided that it should have a closer relationship with a small number of counsel who will be available to advise the CMA on particular cases.
Welcoming their appointment, the CMA General Counsel, Sarah Cardell, said:
I am delighted that we have been able to appoint counsel of such high calibre. The CMA needs a strong team of advocates and external legal advisers, who are enthusiastic about and committed to its work – but also able to give it detached and objective advice. I look forward to working closely with all 3 members of the panel.
Notes for editors
The CMA is the UK's primary competition and consumer authority. It is an independent non-ministerial government department with responsibility for carrying out investigations into mergers, markets and the regulated industries and enforcing competition and consumer law. From 1 April 2014, it took over the functions of the Competition Commission and the competition and certain consumer functions of the Office of Fair Trading, as amended by the Enterprise and Regulatory Reform Act 2013.
Marie Demetriou QC took Silk in 2012. She has extensive advocacy experience before the English and European Courts across her specialist areas of EU law, competition law and public law (including human rights) and is a former Referendaire at the European Court of Justice.
Rob Williams is an experienced competition lawyer and litigator. He has a practice focused on EU, commercial and public law litigation in the High Court, the Competition Appeal Tribunal and the appellate courts.
David Bailey's practice is built on his expertise in competition law. He has worked on cases before first-instance and appellate courts in the UK and EU. David is a Visiting Professor of Law at King's College London, and the co-author (with Richard Whish) of Competition Law, 8th edition 2015.
These appointments were made following an open competition with the consent of the Attorney General. The appointments are for a term of 3 years with a possible extension of a further 3 years.
For more information on the CMA see our homepage or follow us on Twitter @CMAgovuk, Flickr and LinkedIn.
Enquiries should be directed to Rory Taylor (rory.taylor@cma.gsi.gov.uk, 0203 739 6798) or Kasia Reardon (kasia.reardon@cma.gsi.gov.uk, 0203 738 6901).
Published 14 July 2015