Press release
CMA appoints new Executive Director
The CMA has today announced the appointment of Dr Michael Grenfell as its Executive Director – Enforcement.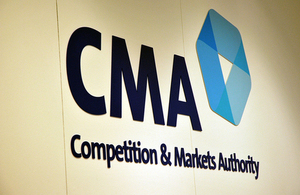 Currently the Competition and Markets Authority's (CMA) Senior Director for Sector Regulation, Michael will take up his new post on 15 July 2015. He replaces Sonya Branch, who left this May to take up the role of General Counsel at the Bank of England. In his new position, Michael will join the CMA's Senior Executive Team and will sit on the CMA Board.
Welcoming his appointment, the CMA Chairman, David Currie, said:
I am delighted that we have appointed someone of such proven calibre as Michael. I look forward to the quality of advice and insight he will bring to the table.
Echoing this sentiment, the CMA's Chief Executive, Alex Chisholm, said:
Michael is a great addition to the senior executive team, having already made an outstanding contribution to the work of the CMA so far.

I am confident, as he steps up into his new role, that he will have real impact in driving through our enforcement work, a key priority area for the organisation.
Michael Grenfell said:
Protecting consumers from anti-competitive behaviour and unfair trading practices is a key part of the CMA's role. I look forward to working with the CMA's excellent enforcement team to combat cartels, other competition law infringements and breaches of consumer law, with vigour and determination.
The CMA will shortly be running an open recruitment for Michael's current position of Senior Director for Sector Regulation.
Notes for editors
The CMA is the UK's primary competition and consumer authority. It is an independent non-ministerial government department with responsibility for carrying out investigations into mergers, markets and the regulated industries and enforcing competition and consumer law. From 1 April 2014 it took over the functions of the Competition Commission and the competition and certain consumer functions of the Office of Fair Trading, as amended by the Enterprise and Regulatory Reform Act 2013.
Dr Michael Grenfell joined the CMA at its inception in 2014 from Norton Rose Fulbright LLP, where he specialised in competition law for 25 years, including 15 years as a Partner and a period as Head of the firm's London Competition Group. Michael has also been an active member of the Competition Law Committee of the City of London Law Society and chaired its Working Group on the UK's competition law reforms.
This appointment was made in accordance with the requirements set down in the Commissioner for Public Appointments Code of Practice. The Secretary of State for Business, Innovation and Skills, Sajid Javid, has made the appointment of Michael to the CMA's Board.
For more information on the CMA see our homepage or follow us on Twitter @CMAgovuk, Flickr and LinkedIn.
Enquiries should be directed to Kasia Reardon (kasia.reardon@cma.gsi.gov.uk, 0203 738 6901).
Published 2 July 2015