Press release
CMA appoints new Cartels Director
The CMA has continued to expand and strengthen its Cartels and Criminal Group (CCG) with the appointment of a new director to its leadership team.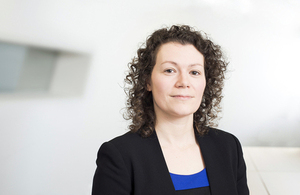 Deborah Wilkie has been appointed to the role of Director of Civil Cartel Enforcement.
She will join the existing Director of Civil Cartel Enforcement, Juliette Enser, to lead an expanded civil cartel enforcement team. As well as acting as project director on Competition Act cartels cases, Deborah will also play a leading role in the CMA's policy work on cartels and leniency.
Deborah was previously an Assistant Director in the CMA's civil cartel enforcement team where, as well as leading civil cartel cases, she represented the CMA in the Cartels Working Group of the European Competition Network, having joined the CMA from private practice in 2014. She will start in her new post with immediate effect.
Stephen Blake, CMA Senior Director of Cartels and Criminal, said:
This appointment further strengthens the CMA's cartel enforcement group, reflecting the ongoing importance we place on identifying, investigating and taking enforcement action against cartel activity by firms and individuals across the UK.

Deborah brings a wealth of skills and experience, both from her time at the CMA, and before that as a lawyer in private practice, dealing with large and complex commercial disputes.
Deborah will join the group's senior leadership team, reporting to Stephen Blake as Senior Director of Cartels and Criminal. The group reports to Michael Grenfell, Executive Director of Enforcement.
Notes for editors
Prior to joining the CMA in January 2014, Deborah Wilkie was a Senior Associate at Herbert Smith Freehills, where she represented clients in large-scale commercial disputes in a variety of sectors, including private competition actions before the High Court and Competition Appeal Tribunal. She is also a qualified solicitor-advocate.
Today's appointment is part of the CMA's drive to enhance its cartels and criminal enforcement capacity and follows the earlier appointments of Keith Foggon (Director of Forensic IT), David Harper (Director of Intelligence) and Emma Lindsay (Director of Criminal Enforcement) in CCG.
The CMA is the UK's primary competition and consumer authority. It is an independent non-ministerial government department with responsibility for carrying out investigations into mergers, markets and the regulated industries and enforcing competition and consumer law. From 1 April 2014 it took over the functions of the Competition Commission and the competition functions (and certain consumer functions) of the Office of Fair Trading.
Anyone who has information about a cartel is asked to call the CMA cartels hotline on 0203 738 6888 or email cartelshotline@cma.gsi.gov.uk. The CMA operates an informant rewards policy under which it may pay a financial reward of up to £100,000 in return for information which helps it to identify and take action against illegal cartels.
Under the CMA's leniency policy a business that has been involved in a cartel may – in certain defined circumstances – be granted immunity from penalties or a significant reduction in penalty in return for reporting the cartel and assisting the CMA with its investigation. Individuals involved in cartel activity may also in certain defined circumstances be granted immunity from criminal prosecution for the cartel offence under the Enterprise Act 2002. See Cartels: confess and apply for leniency guidance.
Media enquiries to be directed to Kasia Reardon (kasia.reardon@cma.gsi.gov.uk, 0203 738 6901).
For information on the CMA see our homepage, or follow us on Twitter @CMAgovuk, Flickr and LinkedIn. Sign up to our email alerts to receive updates on Competition Act 1998 and cartels cases.
Published 6 August 2015