News story
CMA accepts remedies in specialist magazines merger
The CMA has accepted Future's proposals to sell SciFiNow to address competition concerns about its merger with Miura.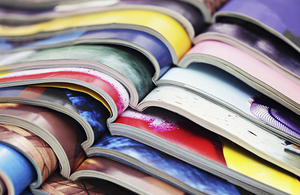 Future plc (Future) and Imagine Publishing Ltd (Imagine) are both prominent publishers of specialist magazines as well as bookazines, applications and websites. Their titles overlap in computing, website design and 3D modelling, gadgets, gaming, sci-fi, and photography. Miura (Holdings) Limited is the parent company of Imagine. On 21 October 2016, Future completed the acquisition of the entire share capital of Miura.
In its initial investigation, the Competition and Markets Authority (CMA) found that while most of the companies' titles will be sufficiently constrained by competing magazines or similar online content, the merger may result in a substantial lessening of competition in relation to the supply of sci-fi titles to consumers in the UK. On 7 October 2016 the CMA indicated that unless these concerns were resolved, the merger could face an in-depth investigation.
Future has proposed to sell the business of the title SciFiNow, a sci-fi, fantasy and horror TV and film magazine published by Imagine. On 20 October 2016 the CMA launched a public consultation on Future's proposal, though no concerns were raised.
The CMA is satisfied with Future's undertakings to sell SciFiNow and the anticipated merger will not be referred to an in-depth phase 2 investigation.
All information relating to this investigation can be found on the case page.
Published 14 November 2016