CMA accepts Mastercard/VocaLink undertakings
The CMA has today accepted undertakings offered by Mastercard to address competition concerns arising from its purchase of VocaLink.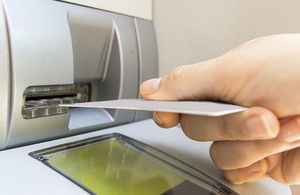 On 18 January 2017, the Competition and Markets Authority (CMA) announced it would look in detail at whether the undertakings offered by Mastercard UK Holdco Limited, an affiliate of MasterCard International Incorporated (Mastercard), and VocaLink Holdings Ltd (VocaLink) removed the need to carry out an in-depth merger investigation.
The package of measures offered by Mastercard and VocaLink consisted of:
VocaLink making its existing network connectivity available to a new supplier of infrastructure services to LINK. This could allow a competitor to use VocaLink's connectivity to members of the LINK ATM network, rather than having to build their own;

VocaLink transferring to LINK the intellectual property rights relating to the LINK LIS5 messaging standard, which members of the network use to communicate when customers use cash machines; and

Mastercard contributing to the cost to LINK members of changing to a new supplier of infrastructure services to LINK.
After considering responses to a formal consultation, the CMA has concluded the proposals are sufficient to address its competition concerns.
The undertakings and all other information relating to this merger investigation will shortly be available on the case page.
Published 11 April 2017