Press release
CMA accepts commitments to improve access to road fuels market in the Western Isles
The CMA has today accepted binding commitments from Certas Energy UK Limited (Certas) and DCC plc which aim to improve competition in the supply of petrol and diesel to filling stations in the Western Isles of Scotland.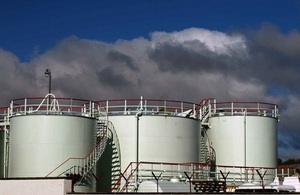 The commitments bring an end to contracts which provided for many filling stations on the islands to buy fuels exclusively from Certas for 5 years. Filling stations will now have greater flexibility to choose whether or not they purchase fuels from Certas, and the terms of those arrangements.
The commitments will also open up access to Certas' marine terminals at Loch Carnan in South Uist and Stornoway in the Isle of Lewis to potential competitors for 5 years.
The Competition and Markets Authority (CMA) (and previously the Office of Fair Trading (OFT)) had been investigating a possible infringement of competition law in the islands, relating in particular to the contractual arrangements between Certas and certain filling stations for the wholesale supply of road fuels.
Following acceptance of the commitments, the CMA has now closed its investigation.
Ann Pope, CMA Senior Director of Antitrust Enforcement, said:
We are extremely pleased to have secured these commitments from Certas, which offer a real opportunity for rival fuel distributors to enter the Western Isles market on a long-term basis.
This should ultimately help make fuel prices more competitive and benefit people and businesses in the islands.
Notes for editors
Full details of this case, including a link to the CMA's commitments decision, can be found on the project webpage.
The OFT and the CMA carried out 2 public consultations, in March 2014 and May 2014, to seek the views of interested parties on the proposed commitments. Following the first consultation, certain changes were made to the commitments. Most significantly, the length of time that competitors will have access to the Stornoway marine terminal was extended from 2 and half years to 5 years.
The CMA is the UK's primary competition and consumer authority. It is an independent non-ministerial government department with responsibility for carrying out investigations into mergers, markets and the regulated industries and enforcing competition and consumer law. From 1 April 2014 it took over the functions of the Competition Commission and the competition and certain consumer functions of the OFT, as amended by the Enterprise and Regulatory Reform Act 2013.
Photo above by Windy_ on Flickr. Used under Creative Commons, photo resized.
Published 24 June 2014