CloudStore opens for business
CloudStore, the online appstore of the government G-Cloud framework for cloud-based ICT services, is open for business.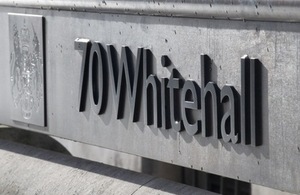 CAB 011-12
   
Cabinet Office Minister Francis Maude announced today that CloudStore, the online appstore of the Government's G-Cloud framework for cloud-based ICT services, is open for business.
CloudStore offers the public sector a cheaper, quicker and more transparent way to procure the services they need, including email, word processing, system hosting, enterprise resource planning, electronic records management, customer relationship management or office productivity applications.
The G-Cloud framework is set to revolutionise the purchasing, management and delivery of public sector IT services and the way suppliers work with government. Public sector organisations will be able to purchase "off-the-shelf" IT services from CloudStore on a "pay-as-you-go" basis rather than having to develop their own systems. This model means the government can use what it wants, when it wants it, and save money by avoiding duplication of services that cannot be shared.
Francis Maude, Minister for the Cabinet Office, said:
The launch of CloudStore is an important milestone in the Government's ICT strategy to deliver savings and an IT system fit for the 21st century. Simply stated, purchasing services from CloudStore will be quicker, easier, cheaper and more transparent for the public sector and suppliers alike.
CloudStore offers public sector bodies a range of the best industry IT services and solutions off the shelf. It provides the flexibility to change service provider easily without lengthy procurement and implementation cycles or being locked in to long contracts; and the freedom to quickly adopt solutions that are better value and more up to date.
For this first tranche of the G-Cloud service catalogue, the Government received bids from nearly 300 suppliers, offering a total of around 1,700 services, which are going through a process of assurance and accreditation.
To encourage competition and ensure transparency, service details and pricing information are open to all on CloudStore, allowing buyers to compare services and suppliers and make fully informed purchasing decisions; and contracts should be no longer than a year.
Cabinet Office Minister Francis Maude added:
By creating a competitive marketplace, the G-Cloud framework will constantly encourage service providers to improve the quality and value of the solutions they offer, reducing the cost to taxpayers and suppliers. And it gives SME suppliers of niche products the same opportunities as bigger organisations supplying services.

Using cloud solutions that have already been secured and accredited will almost always be less expensive, and we will only pay for what we use. We will also know from the outset the cost of the product and, importantly, the cost of exit from contracts that will be no longer than 12 months.
For suppliers not yet on the G-Cloud, it is planned to re-open the framework to applications from new suppliers and products in the spring.
To enter the CloudStore, go to www.gov.uk/cloudstore
Notes to Editors
The CloudStore online catalogue is at www.gov.uk/cloudstore. You can also visit the G-Cloud on  http://gcloud.civilservice.gov.uk/ and follow it on Twitter @G_Cloud_UK or through the G-Cloud blog http://gcloud.civilservice.gov.uk/blog/
The G-Cloud received nearly 300 bids from suppliers, for a total of some 1,700 services. Of the suppliers on the framework, around 50% are SMEs. Information about these suppliers can be accessed via the G-Cloud blog at http://gcloud.civilservice.gov.uk/blog/  
The G-Cloud framework was delivered by the Government Procurement Service.
CloudStore was built by UK SME Solidsoft.
Published 19 February 2012