World news story
Climate change risk assessment report released
An international group of experts release a new independent assessment of the risks of climate change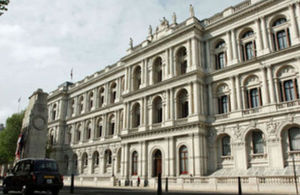 An international group of scientists, energy policy analysts and experts yesterday released a new independent assessment of the risks of climate change. The report is designed to support political leaders in their approach to tackling climate change.
The report argues that the risks of climate change should be assessed in the same way as risks to national security or public health. It identifies thresholds beyond which 'the inconvenient may become intolerable'.
These include limits of human tolerance for heat stress, and limits of crops' tolerance for high temperatures, which if exceeded could lead to large-scale fatalities and crop failure; and potential limits to coastal cities' ability to successfully adapt to rising sea levels.
The impact of climate change can already be seen in Kenya. Kenya endured six droughts and two floods between 1992 and 2009, affecting 10 million people. Drought is estimated to have slowed down the country's economic growth by an average of 2.8% per year. The annual cost of climatic shocks to Kenya alone is estimated at about Ksh. 44.3 billion (about 2% of the GDP). If not addressed, climate change will severely hamper Kenya's ambition of achieving middle income status by 2030. As ever, the impact will be disproportionately felt by vulnerable groups, especially women and those living in the arid and semi-arid lands and coastal regions.
The report suggests that the risk of these thresholds being crossed could become increasingly likely, especially if global greenhouse gas emissions continue to rise, as the report suggests they will in the absence of stronger political commitment and faster technological development.
The report suggests that the greatest risks of climate change may be those that are magnified by the interactions of people, markets and governments. It finds that the risks of state failure could rise significantly, affecting many countries simultaneously.
The report recommends that climate change risk assessments should be updated regularly and communicated to political leaders at the highest level.
Speaking at the report's launch at the London Stock Exchange, Foreign Office Minister Baroness Anelay said:
The risks of climate change will increase continually over time – until we have entirely eliminated their cause. To manage these risks successfully, it is essential that we take a long-term view, and that we act in the present, with urgency.
Kenya is leading the way with its National Climate Change Action Plan and Climate Bill, which the UK supports through the £3.87bn International Climate Fund (ICF). The UK is also supporting the Kenyan government to leverage private sector investment in low carbon technologies, helping communities to adapt to the effects of climate change, and improving livelihoods in affected areas.