News story
Civil Service reservists wear their uniforms to work
A new network of 'Reserve Champions' will promote the benefits of employing reservists in the Civil Service.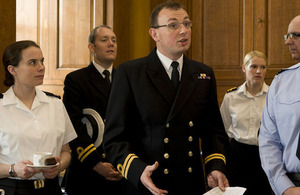 Several hundred civil servants who serve in the Reserve Forces are proudly wearing their military uniforms to work today, 26 June, in job centres, tax offices and government departments across the country to mark Uniform to Work Day.
The annual event, which was established 5 years ago, takes place ahead of Armed Forces Day this Saturday. Sir Bob Kerslake, Head of the Civil Service, and Sir Jeremy Heywood, the Cabinet Secretary, held a reception today to celebrate the contribution of civil servants who serve in the Reserve Forces.
The Civil Service is one of the UK's largest employers of reservists. To support the government's plans to increase the size of the Reserve Forces, departments now offer a minimum of 10 days' special paid leave each year for reserve training.
A new network of 'Reserve Champions' across government has been established to promote the benefits of employing reservists and increase their visibility in the Civil Service.
Sir Bob believes that reservists could play a role in supporting Civil Service Reform through the skills and experiences they gain from training with the Armed Forces and being deployed on operations abroad. It complements efforts to make it easier for other civil servants to broaden their experience through secondments and interchange with the private sector.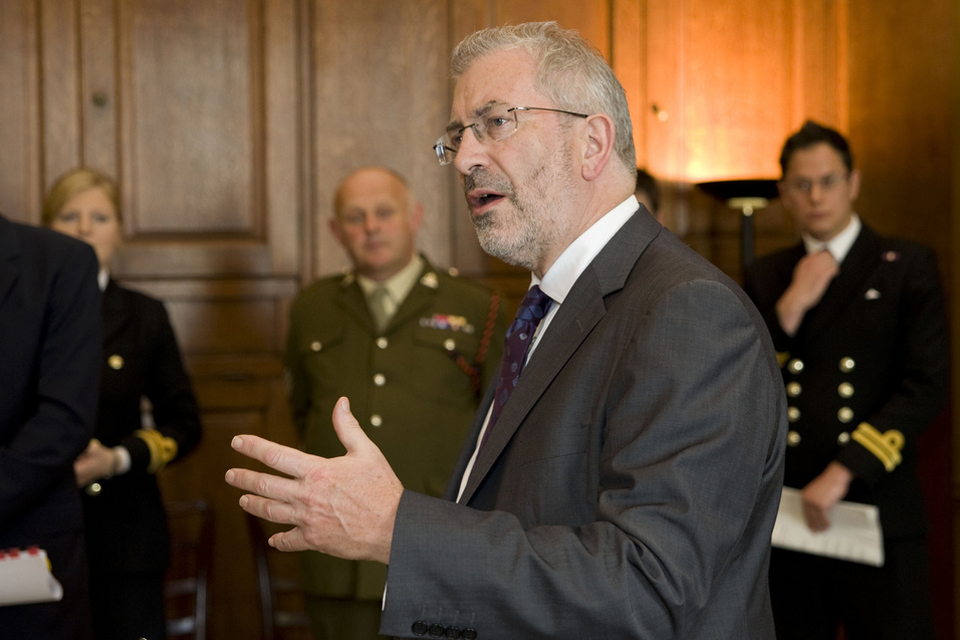 Sir Bob said:
The Civil Service is exceptionally proud of our reservists and Uniform to Work Day is a welcome opportunity to salute their commitment and service.

The Civil Service is an incredibly diverse organisation and the fact we have employment advisers, vehicle inspectors and policy advisors who are prepared to spend their spare time training with the Armed Forces is a testament to the public service ethos. We owe them maximum support.

Quite simply, I want the Civil Service to be the very best employer of reservists, setting the standard which other public and private sector employers seek to follow. That's why we now offer a minimum of 10 days' additional special paid leave each year for reserve training.

Developing individual skills and capabilities is at the heart of our Civil Service Reform Plan, and we want civil servants to have the broadest possible range of backgrounds and experience. Reservists develop skills in areas like leadership, team work and problem-solving, often working under considerable pressure. These qualities are of immeasurable value to a large and dynamic employer like the Civil Service, and can help us deliver better services to the public.
Many of the civil servants attending today's reception have served operational tours in Bosnia, Iraq and Afghanistan and during the recent Libya campaign. Others have been involved with anti-piracy patrols off Somalia or were among the thousands of military personnel called in to support last year's Olympic Games.
Reservists' experiences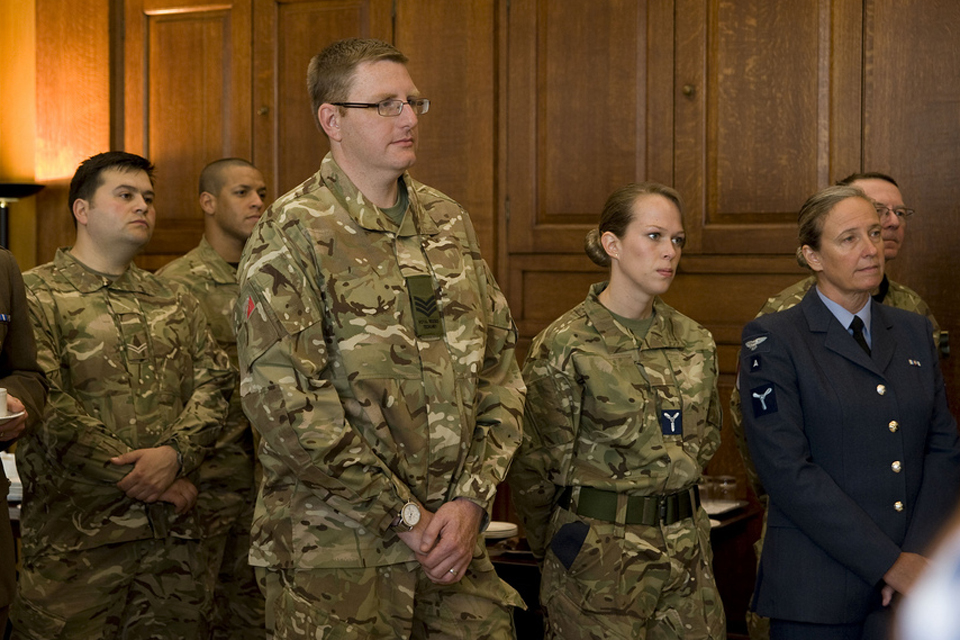 Duane Read
Duane Read works in the Customer Contact Centre at the Department for Environment, Food and Rural Affairs, and serves as a Private in the London Scottish Regiment of the Territorial Army (TA). He said:
I recently served in Afghanistan and was attached to the Grenadier Guards. The experiences out there will stay with me forever, as will the friendships formed with the lads.

Being a reservist has assisted in making me confident in how I approach difficult subject areas at work and to prioritise and deal with issues in an orderly manner rather than stress over every detail. Team work, reliability, leadership and trust are key qualities in the TA – and, above all, someone has to be able to make a good brew.

Since I returned from Afghanistan, I've noticed a rapid change in policy in the Civil Service and there is a specialist team in place for reservists across the board. It is still at early stages of the set-up, but I can see the support more so than before.
Matthew Shouler
Matthew Shouler is currently seconded to the Cabinet Office. He also serves as an officer in the Royal Naval Reserve and has previously deployed to Iraq. He said:
My most recent Civil Service job was to set up the logistics and manning plot for the G8 Summit secretariat in Northern Ireland. I definitely drew on skills I've developed in the Royal Navy – it was very much like crewing and deploying a small warship.

My manager understands that I need to leave promptly on Tuesdays and Fridays for reservist commitments and has granted me leave to attend some additional weekday reservist commitments.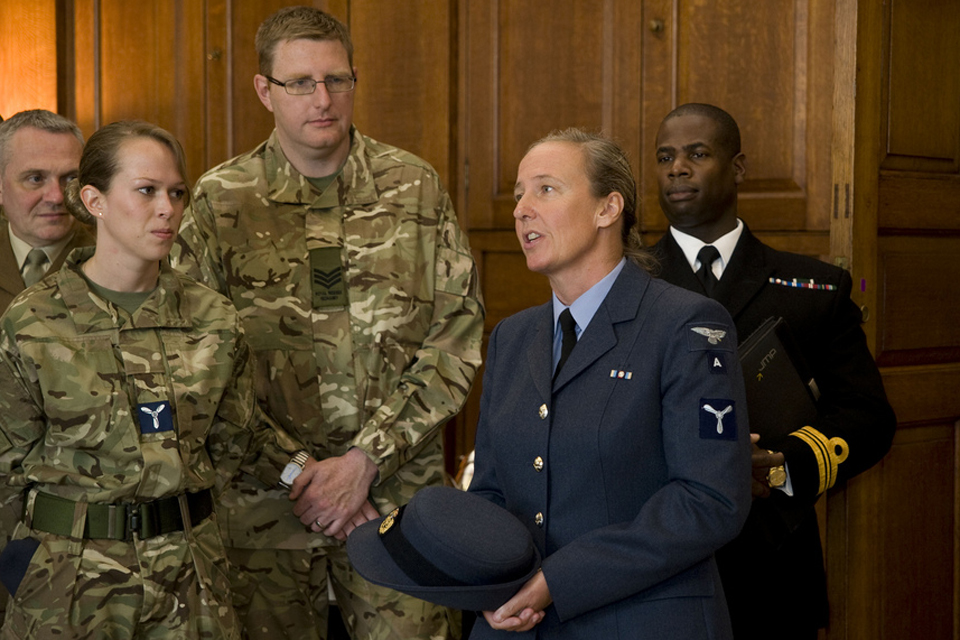 Mandy Mitchell
Mandy Mitchell works as an Administrative Officer for Jobcentre Plus and also serves in the Royal Auxiliary Air Force as a Senior Aircraftwoman. She deployed to Camp Bastion in Afghanistan in 2012 as a specialist driver. She said:
I began accompanying my daughter to the cadets and it wasn't long before I discovered an opportunity to join the RAF as a reservist. Since that day I haven't looked back.

Being a reservist has given me additional confidence as a team member and as a team leader. It's helped me to tackle tasks and use my organisational abilities in some difficult situations.

I have always had support from my colleagues at the job centre. They also kept in regular contact with me during my tour of Afghanistan, and when I returned to work after 7 months away they helped ease me back into my role.
John Williamson
John Williamson works for the Department for Work and Pensions on the Jobseekers Allowance Enquiry Line. He joined the Territorial Army in 1977 and has risen to the rank of Major. He said:
As a reservist you wear 2 hats and you can draw on the best of both worlds in any situation.

As a watch officer in a brigade HQ, I need to get and disseminate information quickly and efficiently. In my civil servant guise my work is constantly evolving to react to changes in legislation, society and the economy.

I have always had fantastic interest and encouragement from my Civil Service colleagues; quite simply they are brilliant and I think that is because we all have a strong sense of public duty.
Published 26 June 2013