Press release
Civil Service celebrates its diversity at the 10th Diversity and Inclusion awards
Senior figures and colleagues across the Civil Service celebrated winners and nominees of the 10th annual Diversity and Inclusion Awards.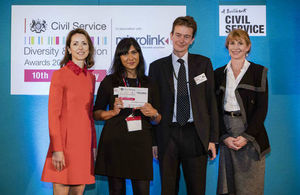 This year's awards, held on 14 October 2016, attracted over 145 nominations in 6 categories from across the Civil Service and in all parts of the country.
These awards are an opportunity to recognise civil servants who are working to make us the most inclusive employer in the UK.
Diversity and inclusion has never been more important to the Civil Service, as it strives to ensure that the organisation reflects the people it serves. It aims to remove the barriers to progress still faced by some because of their gender, ethnicity, disability or sexuality, particularly in senior roles.
New figures from the Office for National Statistics show that the proportion of civil servants who declare a disability (9.2%) and those who are from a Black, Asian or minority ethnic background (11.2%) is at a record high. Currently 54.2% of the workforce are women.
Cabinet Secretary, Jeremy Heywood, said:
My ambition is for the Civil Service to be the UK's most inclusive employer and allow our most talented staff to progress through the organisation, no matter what their background. These inspirational award winners show that the Civil Service is at its best when it reflects the modern Britain we serve. I will continue to champion the importance of a diverse Civil Service which values difference not conformity.
Microlink sponsored this year's Diversity and Inclusion Awards.
Dr Nasser Siabi OBE, Chief Executive or Microlink PC, said:
We would like to congratulate the participants in this year's D&I awards for their outstanding work and their passion in making the UK Civil Service the most inclusive and diverse in the world.

Microlink is immensely proud of its sponsorship of the D&I awards since it's inception 10 years ago and privileged to be associated with these prestigious awards which recognise the incredible work of many civil servants, from all ranks, going over and beyond their normal duties to make a big difference to the lives of colleagues and communities of all backgrounds. We sincerely thank DODS for organising such an fantastic event every year.
Award winners
Championing Disabled People Award: Personal Tax Raising Disability Awareness Team, HMRC
The Personal Tax Raising Disability Awareness Team held a masterclass, facilitated by 60 disabled and non-disabled volunteers and supported by their Disability Champion, for managers and leaders to increase staff capabilities to support disabled colleagues. They promoted the masterclass in the departmental Pulse magazine which reaches approximately 60,000 staff.
Championing Gender Award: Ellie Binks, National Offender Management Service and Keela Shackell-Smith, Environment Agency
Ellie and Keela set up the first 'network of networks' meeting of women's/gender network leads, to share expertise, experiences and knowledge. The network grew to 96 network leads from 32 different departments within just one year. Ellie and Keela went on to form the Cross Government Women's Network, and set up a scheme with Sarah Rapson (Home Office Director General) for mentoring opportunities between female director generals and network leads.
Championing Inclusion Award: Joanna Parry, Home Office
Joanna has been proactive in promoting respect across all Home Office visa staff. She introduced a 'respect' poster and organised focus groups where all staff were able to discuss what respect meant to them. She also created a 'vent wall', where staff members can anonymously disclose how they're feeling. This has really taken off and management is listening to all views.
Championing Lesbian, Gay, Bisexual, and Transgender, Intersex People Award: PRISM, Welsh Government LGBTI+ Staff Network
PRISM have held engaging events including presentations from LGBTI Historian Noreena Shapland, and academic and lecturer Lloyd Llewellyn-Jones. PRISM has a large presence at external events such as Pride Cymru and the Civil Service Rainbow Alliance Conference in London.
Championing Minority Ethnic People Award: Mushtaq Raj, Home Office
Mushtaq delivered bullying, harassment and discrimination (BHD) sessions as part of Anti Bullying Week. As part of a network he provides support to individuals suffering from BHD and has personally dealt successfully with over 200 BHD cases. Mushtaq also delivered core competency and interview techniques workshops across the country, to help increase fairness and transparency in the recruitment process and to develop the talent pipeline for Black, Asian and minority ethnic staff.
Employee Network Excellence Award: Religion and Ethnic Minority (REM) Network, DBEIS
The Religion and Ethnic Minority (REM) Network raises awareness around cultural and religious events such as Chinese New Year, Diwali, and Holocaust Memorial Day. They do this through hosting a number of events and increasing managers' capabilities to support staff who observe religious commitments, for example Ramadan. They also developed diversity tools and sessions on diversity for away days, and introduced an executive committee outreach scheme where confidential advice for members on issues such as bullying is available.
Background
For more information about the Civil Service Awards you can:
Published 17 October 2016