Press release
Civil servants swap Whitehall corridors for the NHS front line
Civil servants will be swapping the corridors of Whitehall for the NHS front line in the future Health Secretary Jeremy Hunt announced today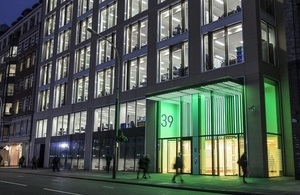 To understand the needs of patients and the pressures NHS staff face, every Department of Health civil servant will be expected to gain first hand experience of life in health or social care.
A key recommendation in the Francis report was changing the culture of the department to make sure the needs of patients are always the first priority. As an important step, the Health Secretary wants his staff to lead the way across Government, by gaining a personal understanding of life on the front line and using that experience to shape policies that serve patients and their families.
Expectations on all staff have been made clear:
The Permanent Secretary of the Department of Health, Una O'Brien and directors will lead the way by expanding their experience of the frontline. This will start immediately and spend at least a month a year learning about patient experiences and understanding the impact of their polices on the frontline.

Senior civil servants will also be expected to spend at least a month learning about the experiences of patients every year, increasing their experience levels over time. Policy staff and others will also follow suit, learning about how their policy areas work out in practice, and broadening their knowledge of patient experience.

The experience of staff will be reflected in their performance assessments and it will become a normal part of how the Department works and a basic expectation of the people who work in it.

Civil servants will get exposure to a range of environments to help them get broader grasp of how things work in practice and how people feel about their health and care.

They could be accompanying hospital porters, listening to receptionists answer queries, or learning how busy nurses or health care assistants go about their business. Department staff may be finding out about NHS basics, or learning about how charities support people in our society. There will be a range of opportunities to support senior staff to change the way they work for the better.
Jeremy Hunt, Health Secretary said:
Putting patients at the centre of everything we do isn't just the responsibility of the NHS – we need to make sure it is the root of our policies.
To understand more about what patients and service users need, and the issues which are important to them, civil servants need to walk a mile in their shoes. For the department's leaders to hammer home the importance of putting patients first, they need to see for themselves what that actually means.
Too often, civil servants are accused of making policies from within the ivory towers of Whitehall. It is time for this perception of aloofness to end. No member of staff should be able to get on without a personal understanding of our most basic aim – providing excellent care for the public.
Department of Health Permanent Secretary, Una O'Brien, said:
Even for myself, with seven years front line experience this type of work is important because there is so much more to learn about current realities on the front line. Thousands of life altering events happen to patients in our hospitals and care settings every single day and NHS and social care staff face the pressures they bring. A lot of our staff have front line experience, but it's time for all to see what life is like on the coalface to focus their minds on what we are all working towards.
This isn't about getting in the way of the important work that health and social care staff do. This is about connecting civil servants with life on the front line, changing the culture of the department and progressing the civil service reform agenda.
Andrew Geldard, Chief Executive, of North Essex Partnership University NHS Foundation Trust said:
We are looking forward to showing civil servants how their work translates at the front line.
Mental health is a mini NHS of its own, covering hospitals and community care. It's where mental and physical healthcare merges, and the junction integrating health with social care. To know what's going on in the NHS today, there's no better place to look than mental health.
We're a very well managed part of the NHS too, making a net contribution to efficiency, without redundancies and doing more than ever. It's where effort goes into the service and not having to balance the books. We're in good shape and want to impress them.
Dr Samantha Walker, Executive Director, Research and policy, Asthma UK said:
We're looking forward to giving civil servants a chance to find out more about how the voluntary sector works and hear directly from patients and carers affected by asthma.
Asthma affects more than five million people in the UK, making it one of the commonest long-term conditions, so people with asthma will have lots to share about every level of the health service.
Published 20 May 2013