Press release
Civil partnership conversions into marriage start today
From today, couples in civil partnerships will be able to convert them into a marriage.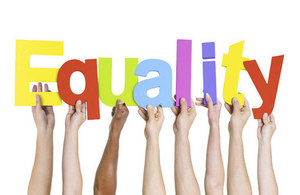 From today, couples in civil partnerships will be able to convert them into a marriage, concluding an historic process of changing the law to give same sex couples the right to be married.
In doing so, the government has also delivered on its promise to couples to allow conversions into marriage to take place from 10 December and there is now no reason in the law why two people of the same sex cannot be married.
Jo Swinson, Minister for Equalities said:
It has been wonderful this year to see same sex couples finally able to celebrate their relationship in the way other couples have done for centuries.

This has meant a huge amount of personal joy for gay men and women and their families, and has made our society stronger and fairer.

Today we take the final step in implementing this historic legislation, by allowing couples to convert their civil partnership into marriage, if they want to.

Congratulations in advance to all the couples already in civil partnerships who are planning to convert them into marriages in the coming months.
The new legislation is designed to give couples in England and Wales the freedom to choose how they would like to carry out the conversion of their civil partnership into marriage, while still providing the religious protections enshrined in the Marriage (Same Sex Couples) Act 2013.
As of today, couples in England and Wales have the choice to convert their civil partnership into a marriage in a local register office or to celebrate with a ceremony in approved premises or religious premises where marriages of same sex couples can take place.
Couples will be issued with a marriage certificate which will show the marriage should be treated as existing from the date of the original civil partnership.
Couples who wish to convert should contact their local register office to arrange the conversion.
Notes to Editors:
For more information or to enquire about broadcast interviews, please contact the Government Equalities Press Office 24 hour Newsdesk on 020 7783 8300.
More information on government's work to allow same sex marriages can be found here.
For the first year, all couples who formed their civil partnership before 29 March 2014 (when marriage was extended to same sex couples) will be able to receive a £45 fee reduction. This means there will be no cost for the simple administrative process.
On average there have been about 6,000 civil partnerships formed each year in England and Wales between 2008 to 2012.
Published 10 December 2014