City of London flag flies at Department for Communities and Local Government
The flag representing the historic City of London has been hoisted above the department's offices.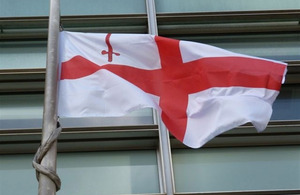 To celebrate the important place historic communities play in the nation's cultural heritage Secretary of State Eric Pickles has asked that local flags, including those of counties, cities and boroughs, to be flown alongside the Union Flag outside DCLG's Eland House headquarters in Victoria.
Mr Pickles raised the first flag - for his adopted home county of Essex - in a ceremony also attended in September by celebrity astrologer and long-time English county campaigner Russell Grant.
Flags are being flown for a week at a time in alphabetical order or - in cases such as Cornwall and Yorkshire - to coincide with particular county days.
Eric Pickles said:
The Union Flag rightly has pride of place outside the department but I'm delighted it will now be flown alongside our traditional and ceremonial county flags.

England's counties, cities and boroughs continue to form an important part of our cultural and local identity in this country and many people remain deeply attached to their communities. This sense of pride and shared identity is 1 of the things that binds us together and it's right that the government department responsible for communities and local government should be actively recognising the important role they play.
Alderman Michael Bear, Lord Mayor of the City of London, said:
I am very pleased to hear that the Department for Communities and Local Government is, quite literally, flying the flag for the City of London this week. My colleagues and I are rightly proud of our City flag which flies over many buildings in the square mile - a centuries-old community with a rich and varied history.
Stuart Fraser, Chairman of Policy at the City of London Corporation said:
We are delighted for our flag to be recognised in this way. The City of London is modern and vibrant but steeped in history. It is the world's leading financial centre at the heart of global business as well as a 24-hour metropolis.
The City of London is the oldest continuous municipal democracy in the world and predates Parliament. Its constitution is rooted in the ancient rights and privileges enjoyed by citizens before the Norman Conquest in 1066. The City of London developed a unique form of government which led to the system of parliamentary government at local and national level.
The right of the City to run its own affairs was gradually won as concessions were gained from the Crown. London's importance as a centre of trade, population and wealth secured it rights and liberties earlier than other towns and cities. From medieval to Stuart times the City was the major source of financial loans to monarchs, who sought funds to support their policies at home and abroad. Today the Court of Common Council (100 Common Councilmen and 25 Aldermen) governs the City of London Corporation, a uniquely diverse organisation. It supports and promotes the City as the world leader in international finance and business services and provides local services and policing for those working in, living in and visiting the square mile. It also provides valued services to London and the nation.
Further information
The department is obliged to fly the European Union flag during Europe Week (week beginning 9 May) under Article 7(2) of EC Regulation 1828/2006.
The City of London flag has been kindly loaned by the Association of British Counties at no charge.
Photographs of the county flags will be added to the DCLG Flickr channel
Published 14 February 2011