'City deals' to be widened across England
More cities in England will be offered the chance to agree a bespoke deal with Government to unlock their potential to drive economic growth…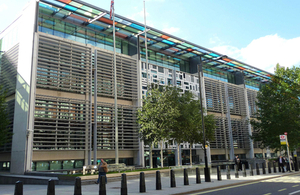 More cities in England will be offered the chance to agree a bespoke deal with Government to unlock their potential to drive economic growth, Cities Minister Greg Clark announced today in a major speech to the Centre for Cities.
The Government is freeing-up cities from the control of Whitehall to unlock their potential as engines of growth through a series of 'city deals' from the spring, giving them the powers they need to attract private sector investment, create new jobs, and rebalance the economy.
In return, cities must guarantee that they can provide strong and accountable leadership, improve efficiency and outcomes, and be innovative in their approach.
Negotiations on the first wave of deals have already started with England's eight largest cities outside of London: Birmingham, Bristol, Leeds, Liverpool, Manchester, Newcastle, Nottingham and Sheffield.
Today Greg Clark announced he was extending the offer of a bespoke city deal to more of England's cities, beyond the main ones, and invited them to start considering their proposals.
An initial menu of possible transformative powers, including greater freedoms to invest in growth, and new ways for cities to boost jobs and apprenticeships, were set out in Unlocking Growth in Cities, published in December. The Government's Cities Unit will lead the negotiation process on behalf of Whitehall.
Greg Clark said:
The battle for economic growth - for Britain's future, will be won or lost in our cities. Right now our cities face serious challenges, but what isn't in doubt is their huge potential to drive economic growth. The key to unlocking that potential is a new deal for cities. Giving cities the powers, control over resources, and funding they need to fire on all cylinders and attract the private sector investment needed to rebalance the economy. But this revival will depend on all of Britain's cities, not just the few. That's why today I am inviting more cities to consider the vision they have for their community and the deal they need to make it happen.

We are turning the established order on its head and cities must come to Whitehall not as supplicants, as in the past, but as equal participants in an open and constructive deal making process.
Cities will need to make a clear case for new powers, backed with evidence and a strong economic rationale. And where Whitehall wants to retain control the burden will be on central Government to explain why it is necessary.
City deals are the next step in Government's plans to grow local economies. Local Enterprise Partnerships are already encouraging local leaders to think and work together in ways that reflect their true economic geography. And the Regional Growth Fund and Enterprise Zones support the idea that local economies should be in the driving seat in encouraging entrepreneurs and private investment.
Notes to editors
Greg Clark's speech to the Centre for Cities is available at: www.communities.gov.uk/speeches/newsroom/citiesoutlook2012.

Unlocking Growth in Cities is available at: www.communities.gov.uk/publications/regeneration/growthcities.
Twitter
Keep up to date with the Department by following us on Twitter (external link).
Media enquiries
Visit our newsroom contacts page for media enquiry contact details.
Published 23 January 2012