Press release
City Deal to transform Southend-on-Sea into major business centre
A new City Deal will help small and medium-sized businesses in Southend-on-Sea to flourish and create new jobs.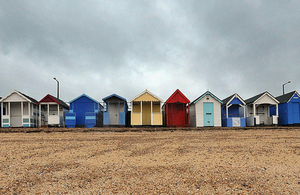 Plans for over £6 million of public and private investment to redevelop deprived parts of Southend and create a business hub for entrepreneurship and innovation have been unveiled by the Deputy Prime Minister Nick Clegg and Minister for Cities Greg Clark.
The Southend-on-Sea City Deal, agreed between the government, local authorities and the Local Enterprise Partnership, will offer intensive support to 1,350 small and medium sized businesses to make the most of the area's entrepreneurial spirit, drive jobs creation and attract inward investment.
Find out what else the government is doing to support and grow the UK economy
An incubator system of intensive one-on-one support will help at least 375 businesses improve performance, helping create or safeguard 555 jobs. The deal will also redevelop Victoria Avenue and deprived wards in the centre of Southend-on-Sea.
Deputy Prime Minister Nick Clegg said:
We're giving Southend-on-Sea the freedom, power and tools to be really innovative and design whole new ways of building a stronger local economy and fairer society. This City Deal puts power in the hands of local people who know best what skills are needed in the area to give it a real chance of changing the fortunes of thousands of people across Essex.
Ahead of his visit to Southend to sign the deal, Greg Clark, Minister for Cities, said:
Southend has the potential to be a driving force for growth in the South East. It is a great place for businesses to locate, expand or start-up. To help achieve that potential, local business and civic leaders told us they wanted to give much better support to small and medium-sized businesses. I am delighted to be able to say 'yes' to that proposal which is a big boost for the economy of Southend.
The £6 million funding consists of £2.5 million from central government, £3 million in private investment and £670,000 from local government. Over its lifetime the Southend-on-Sea City Deal will deliver:
a £1.35 million redevelopment of the Central Library building to create a new space in central Southend to support innovative new start-ups and existing businesses
£1.81 million to provide business support and advice to local businesses through partners like the Chamber of Commerce to harness the energy and entrepreneurship of local businesses
specialist innovation support and advice in partnership with the University of Essex to help local businesses with research and development. This will take the form of training, advice (including from the government's Behavioural Insights Team) and online resources as well as grants
As part of the City Deal, Southend-on-Sea Borough Council has committed to purchase empty sites in central Southend and work with developers to create commercial, residential and mixed-use developments.
The Southend-on-Sea City Deal will also build on proposals being delivered with investment from the Coastal Communities Fund to support local tourism.
Background on City Deals
The first wave of City Deals, agreed with the 8 biggest cities in England, was finalised in September 2012.
In October 2012, the government invited 20 cities and their wider areas to negotiate for the second wave of City Deals, which will see government devolve powers in exchange for responsibility for delivering growth locally.
Southend is the twelfth of the 20 Wave Two areas to conclude their City Deal.
The 20 areas included the next 14 largest cities and their wider areas and the next 6 with the highest population growth (between 2001 to 2010). The cities and their wider areas:
Milton Keynes & South East Midlands
Greater Cambridge
Southampton and Portsmouth
Preston and Lancashire
Black Country
Hull and the Humber
Stoke and Staffordshire
Coventry and Warwickshire
Reading & Thames Valley Berkshire
Oxford and Oxfordshire
Tees Valley
Plymouth
Greater Norwich
Greater Ipswich
Leicester and Leicestershire
Bournemouth and Poole
Southend & South Essex
Swindon and Wiltshire
Greater Brighton
Sunderland
The second wave of City Deals is building on the first, giving more cities the tools to power their own growth. The second wave included an element of competition to increase the quality, level of ambition and innovation of emerging deals. Cities had a 3-month window, from October 2012 to January 2013, to put forward City Deal expressions of interest, with only those that met the City Deal qualifying criteria being invited to negotiate a deal. This criteria required cities to show that their proposals:
addressed a clearly defined economic problem or opportunity
were based on evidence and insight
were at the leading edge of the government's general economic strategy, looking to reduce regulation and bureaucracy, promote and strengthen local markets and support private sector growth
demonstrate a joined-up approach on local policy making
showed local areas being willing to accept risk alongside reward, including investing their own resources creatively
Published 10 March 2014